Francis Blanchard: A personal tribute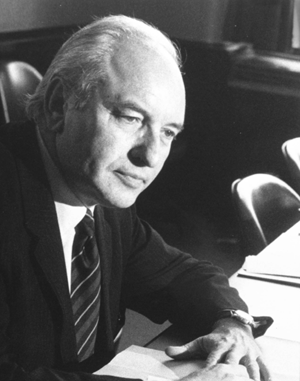 Francis Blanchard, ILO, Director General, Albert Thomas
On learning of the death of Francis Blanchard on 9 December 2009, my first thought was about the passing of a gentleman and diplomat whom I had the privilege of knowing as Director-General through most of my working years in the ILO. I was in the lower ranks and felt a strong connection to the human qualities of this man of the people.
Typical was the speech he delivered on 29 May 2009 at the ILO 90th anniversary lunch where he talked about Albert Thomas, first Director-General of the ILO, and his hope for the future. The sincerity and clarity of his words with precise and concise manner of delivery were the hallmark of Francis Blanchard during his years as Director-General from 1974 to 1989.
Tributes from near and far about his life and work are long and varied. The present tribute is linked to my experience as a member of the Staff Union Committee later to become its General Secretary and Chairperson. I was new to the Committee and our meetings were not always easy. As gentleman and diplomat, he showed great patience lending credence to his position as Director-General of the ILO.
The integrity of the international civil service was foremost in his mind and members of his Cabinet would be encouraged to help find collective solutions to staff-related issues. I witnessed his diplomacy and skill in pleading support for staff issues in front of the ILO Governing Body and through the wider bodies of the United Nations system.
A notable example was the debate about Office closing between Christmas and New Year. There had been lengthy negotiations through several sessions of the ILO Administrative Committee in exchange for other claims by the Staff Union Committee barred within the context of the UN Common System. After detailed consultation within and outside the Office, justified as budgetary savings, he obtained approval of the Governing Body for the annual Office closing between Christmas and New Year. While still an "exceptional measure" it has allowed generations of ILO staff to benefit from the provision resulting from a negotiated settlement under Francis Blanchard.
A more personal example is his intervention to approve my appointment to an administrative position for which I had been selected through the joint ILO Selection Board. The relevant chief had opposed the choice with arguments of 'conflict of interest' due to my elected functions as a serving Officer of the Staff Union Committee, finally overruled.
His action strengthened still further my connection to the human qualities of this man of the people whose life and work was devoted to the cause of social justice and to whom by these few lines I would like to pay a very personal tribute.
Ita Marguet