Interview with His Excellency Mr Joseph U. Ayalogu, Permanent Representative of Nigeria to the United Nations in Geneva and Ambassador to Switzerland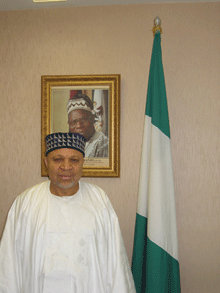 Nigeria, oil, economy, gaz, tourism
Mr Ambassador is not a newcomer to diplomacy. For more than thirty-two years he has been defending the interests of his native Nigeria around the world — from Australia to Egypt, passing by Ukraine, Ireland, Hungary and Yugoslavia — before he arrived in Geneva two-and-a-half years ago as Nigeria's ambassador to the United Nations and to Switzerland. Mr Ambassador has a lot on his plate, and as if this were not enough, he is also the Permanent Representative of Nigeria to the Conference on Disarmament.
As he puts it: "In Geneva we work long hours. In the morning we start off with
regional group meetings. Then more major meetings. Then working luncheons, and then working hours taking you on to 11 p.m. or even longer. During a single day, you can switch focus between Human Rights, Intellectual Property or Disarmament. Hard work but very exciting and intellectually enriching."
His Excellency is a fine diplomat and when asked whether he had an area of preference he told us that human rights and disarmament were subjects close to his heart, but that he did not want to be restricted in his preferences as then he would leave other areas unattended. Everything required his attention.
Q: It seems as though the Ambassadors in Geneva all have a special interest in human rights?
Yes, it is one of the challenging areas they have to deal with. There are always human rights' issues everywhere — either your own country has a lot of human rights' challenges or you are from countries that are concerned about global human rights issues. Either way, you have to react on the spot. Recently, with the setting up of the Human Rights Council, it is taking more time and we are far more engaged in human rights issues than ever before. During the previous Human Rights Commission, we only had one session lasting about six weeks and after that you could take a break, but now you have about four long sessions a year, in addition to inter-sessional meetings of working groups. So you have to be there all the time. I would say that human rights issues are one of the more engaging areas in Geneva now, and we expect it to be even more so in the future.
There are other areas too, such as refugees, migration, health issues, intellectual property, trade and development related processes within the WTO and UNCTAD, the Global Fund, etc. These issues require a lot of attention.


Q: Apart from the President who comes to Geneva from time to time and the oil, we do not hear much about Nigeria in the media.
It is good news when you are not in the news! Usually, when you are in the news too much, it's bad news. Nigeria is the most populated country in Africa and has a lot of potential. Nigeria is the twelfth largest producer of petroleum in the world and the eighth largest exporter. It also has one of the world's largest proven natural gas and petroleum reserves.
We also have lots of mineral resources, such as coal, tin, iron ore, limestone, niobium, lead, zinc, gold — as well as arable land.
We also have the largest quantity of human resources in Africa. That's one of the reasons why we take the issues of human rights and migration so seriously.
One of the interesting things about Nigeria is that, for a long time, it was under a military regime. Over the past eight years it has returned to a democratically elected government. We are making that transition actively and we are fully committed to it. The government has taken steps to deal with the issues of corruption, governance, infrastructure, poverty alleviation and human development. We are going to have elections in 2007 and we are working towards a smooth transition. Democratic transition is perhaps even more important than democracy itself, as how you change government is a pointer to stability. This is especially important in the developing world where there have been decades of unusual regime changes. Everything is going well. Between now and April, the politicians will be quite busy.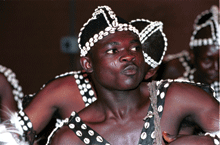 Q: I have the feeling that in Europe we do not know what is happening in Africa. Why do you think that is?
Well, I would not say that Europe does not know what is going on in Africa be-cause there has been a long connection with Africa dating back to the fifteenth century. One could rather say: "Does Europe take enough interest in what is going on in Africa?" Today, Africa is changing. It no longer wants to be the Dark Continent that just provides rawmaterials. It has needs, the needs of a huge population that wants to plug into the twenty-first century with its global infrastructure. Everybody wants to be governed well; everybody wants to enjoy security, development and human rights. So that's the chal-lenge that Africa is facing. We hope that Europe and all our other partners will start to look at the needs of the New Africa in a more structured, pragmatic and positive way.
Nevertheless, perhaps I do agree that there is a lack of appreciation of Africa's current situation on the ground, but I hope it will change. Africa remains the focus. Africa is the continent of the future with huge resources and a big potential market. Global trends, which result in one part of the world not getting as much as it should, create instability. We now worry if our governments are not getting it right. It is no longer a world where the underdeveloped countries can afford to ignore what is happening elsewhere. Africa is going through a period of self-assessment with a view to leading the process in changing its fortunes. The NEPAD process is already yielding results.
Q: They say that the twenty-first century belongs to Africa.
Well, let's hope so! It is nice to think that this is the focus that has been lacking. The G8 last year shifted some attention to focus on Africa, but we want to see more tangible results.
Q: What do you want to see?
More capacity in production, in productivity, in education, in health, in governance. We all know that democracy is the best way, but democracy has to be supported by equitable trade, increased investments and access to capital, enhanced transfer of technology, the eradication of the debt burden, access to foreign particularly European and other Western markets, and so forth. Today China and India are the focus of attention of the rest of the world because of their huge turn around in economic performance. But given the opportunity and the effective and sustainable support, Africa can replicate their spectacularly performance as well. Africa's resources and abundant human capital combined with foreign investments and access to overseas markets would ensure such an out-come in the 21st Century.
Q: In today's newspaper headlines, it is said that the Nigerian Government is now promoting local companies to play a more active part in the oil industry — a role that until recently has always been on the hands of big foreign companies. What is your reaction?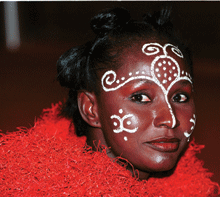 The oil sector is of consider-able strategic importance to Nigeria. But because it is a capital and technology intensive sector, the extraction of the commodity tends to rest in the hands of big companies, such as Shell or Exxon, etc., as in many oil producing countries. This is also the case in Nigeria. However, there is a great need for local participation, at least in providing inventory and services. We intend to expand these. A country can only make the best use of a resource if it actively participates in the process of developing that sector. That's the trend of government policy right now.
We have a lot of oil, and more gas than we have oil. For instance, there are partnerships with Algeria in this field. One idea is to see how we can transport gas across the Sahara and then connect it to the European network.
Q: I have read that Nigeria is aiming at becoming a superpower in Africa. What do you think about that?
We could definitely be one! We are hoping to be the country representing Africa. We call ourselves the Giant of Africa. With all our potentials (of 140 million dynamic people and lots of resources) we ought to be one, but it does require a sustained commitment in politics, governance, resource management and development to achieve that status.
Of course we realize that there are other worthy "competitors" in the continent such as South Africa or Egypt.
Q: Going back to the UN related matters. Do you think that you have a
chance to get a permanent seat on the Security Council (SC)?
When we are considering an expanded Security Council, we think that Africa should have at least two permanent seats based on geographical representation. We think that Nigeria should occupy one of the seats — both because of its size and also for its past and continuing activities as a peacekeeping nation. We have played an important role as peacekeeper over the years. Nigeria has demonstrated its capability to mobilize, deploy and sustain battalions in support of peace-keeping operations in former Congo, Lebanon, Yugoslavia, Angola, and today we are the largest contributors in Darfur, Sudan.
Besides, we played a crucial role in resolving the conflict issues in Liberia and Sierra Leone before the UN came along, both in terms of the largest financier and troop contributor.
Q: What do you consider as Nigeria's main achievement in the international arena?
Firstly, Nigeria had always abided by the United Nations Charter in promoting and preserving international peace and security. We have been active in peacekeeping duties. As I said earlier, we have provided materials, personnel and diplomatic support which have helped in resolving a number of conflicts.
We have also shown an example of good neighbourliness to the rest of the world. We had a border problem over the oil-rich Bakassi Peninsula with Cameroon. We went to the International Court of Justice (ICJ) and, on 12 June 2006, an Agreement was signed between Cameroon and Nigeria. We committed ourselves to the outcome of the ICJ ruling and we implemented it. As the President Olusegun Obasanjo remarked, the agreement was a great achievement in conflict prevention, which practically reflects its cost-effectiveness when compared to the alternative of conflict resolution, and it should represent a model for the resolution of similar conflicts in Africa and in the world at large. If all countries respected their boundaries and international agreements, then there would be more peace in the world.
Secondly, Nigeria has been at the forefront of the international efforts at decolonization and the fight against racism and racial discrimination including the struggle against the erstwhile Apartheid regime in South Africa and Namibia. Nigeria expended enormous amounts to ensure the liberation of the African continent from foreign colonial domination.
Thirdly, Nigeria has championed the effort to get the foreign debt burden lifted from the developing and least-developed countries (LDCs) in order to ensure their eventual development potential. President Obasanjo personally championed this cause in meetings of the United Nations and G-8 Summits which he attended.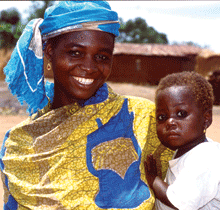 Q: Recently you organized Nigeria's first painting exhibition in the Palais des Nations. Is this something you would like to continue doing?
Yes indeed. We had thought about it for quite some time, but until the young artists came along with their project it had just remained dormant. Then it caught on. Nigeria is a country where cultural values are expressed through art, there is traditional carvings and sculpture — paintings and music. Our art reflects the colour and the variety of the country — we do like colours in our country. Our traditional dresses, for instance, are quite colourful. Incidentally, I organized the first Nigeria film show in Geneva through our effort at WIPO in collaboration with the BBC.
Q: Are you trying to promote Nigerian culture?
Yes, that is the general objective. Last year we participated in the United Nations Bazaar and our ladies displayed Nigerian dresses and cuisine. We are also trying to bring some traditional musicians and dancers. Now that we have organized one event at the Palais, we are encouraged to continue.
Q: What is the message you would like to send out to the international community?
The point is that Nigeria is a country with lots of economic potentials and abundant human resource. It is also a huge market in its own right for any potential investor. The rates of return on investments are upward of 30 per cent in some cases. We have come out of our past and we are working toward our future, towards political, social and economic stability and well being. We should be given a chance. We should be encouraged in partnerships to attract investors, tourism…
Q: What do you have to offer to tourists?
We have a lot to offer — unique and interesting fauna and flora, diversity, good beaches, dense forests, coastal areas, savannah, desert. If you like forest attractions, you can find it in Nigeria. I would recommend that you go to Obudu in the south of Nigeria — but that's only one of the many destinations. Variety is what we offer to the tourists including eco-tourism, culture tourism and leisure tourism.
The reason you do not hear so much about Nigeria as a tourist destination is because one tends to talk much more about its oil. However, tourism can bring us just as much attention and money as oil.
Q: Finally, Mr. Ambassador, you have a busy life in Geneva. When you do not work, what do you do?
When I do not work I spend time with my family, and there are lots of good walks in Geneva, but I also try to read and become involved in social activities. We hardly have a dull moment. I like Berne and Geneva. They are very clean, safe and quiet cities. Once you have the means to live here, it's very pleasant.
I have enjoyed my tenure here, and — as I said — the African-Nigerian issues are becoming quite important. Knowing that, we are the messenger saying that Africa should be taken seriously. It would be a happier world if it were.
Let's hope so, Mr. Ambassador. At least we are convinced that we ought to take a trip to Africa to see for ourselves … that Africa i
Photos: WHO/P.Virot