PRESS CONFERENCE BY UN SECRETARY-GENERAL BAN KI-MOON AT PALAIS DES NATIONS IN GENEVA ON 12 APRIL 2012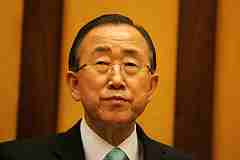 Photos: Action Press/Virot Text: UNOG
April 12, 2012
TRANSCRIPT OF PRESS CONFERENCE BY UN SECRETARY-GENERAL BAN KI-MOON AT PALAIS DES NATIONS IN GENEVA ON 12 APRIL 2012
It is a great pleasure to see you once again. I do not get a chance to see you often enough, so I am very glad to see you again today on the occasion of my visit to Geneva to chair the CEB, which stands for UN Chief Executives Board Meeting. This is a twice-annual meeting among heads of all our agencies, funds and programmes, and major department heads, to deliver and to act as one United Nations. This has been proven a very effective system when the United Nations is such a huge organization that we need to coordinate very closely among so many quite autonomous, independent organizations.
This year's focus will be the Rio+20 conference on sustainable development, to begin shortly after the G20 summit in mid-June. Without exaggeration, I would call it one of the most important conferences in the United Nations history.
At this year's CEB we will also be discussing change management and our ongoing effort to strengthen and modernize the United Nation system.
Here in Geneva, I have just come from a meeting with the Global Migration Group, a key body dealing with an issue of growing importance of migration across the world.
I also met with the Geneva diplomatic corps and briefed them on my action agenda for the next five years.
Ladies and gentlemen,
Immediately upon arriving in Geneva this morning, I spoke at length with Kofi Annan, the Joint Special Envoy of the United Nations and the League of Arab States.
Today marks a critical moment in our six-point plan for ending the violence in Syria, and for creating the conditions for an inclusive political solution that meets the democratic aspirations of the Syrian people.
As of this afternoon, as of this moment, the situation looks calmer. We are following it very closely.
The world is watching, however, with sceptical eyes since many promises previously made by the Government of Syria had not been kept. The onus is on the government of Syria to prove that their words will be matched by their deeds at this time.
Once again, I call on the Government of Syria to fully implement its commitments under the six-point plan.
I also call on the Syrian opposition to sustain this cessation of violence in all its forms.
This is the time for a fundamental change of course. Too many lives have been lost. It is time to stop the killing.
I appeal to all friends of Syria to exercise maximum influence in halting this tragic conflict.
Ladies and gentlemen,
It is difficult to fully assess the situation on the ground in the absence of United Nations observers. Therefore we are working with the Security Council to send an observer team as promptly as possible. Joint Special Envoy Kofi Annan will brief the Council this afternoon, maybe within twenty minutes.
If we are to stop Syria's descent into chaos, the international community must speak and act as one.
I welcome the Security Council's recent and unanimous action. And I emphasize: further militarization of the conflict is not a solution.
On humanitarian front, the number of refugees fleeing to neighbouring Turkey and Lebanon in recent days is surging.
An estimated one million Syrians need humanitarian assistance. Discussions are on-going about how best to help them. In coordination with the Syrian Arab Red Crescent, the United Nations is already delivering supplies to displaced persons in Tartous Governorate in western Syria. The whole United Nations system will continue to do its utmost to help alleviate human suffering.
Ladies and gentlemen,
Let me conclude with a few words on other important matters.
First: at the meeting of the Quartet in Washington yesterday, we discussed ways to encourage the parties to resume meaningful negotiations for a Middle East peace.
Israeli and Palestinian leaders are due to meet next week. We must do all that we can to advance the peace process to end the occupation and promote a two-state solution. Further delay only increases the risk of renewed conflict.
Second: the situation on the Korean Peninsula.
The international community has sent a clear and unanimous message to the Democratic People's Republic of Korea.
Its decision to launch so-called "application satellite" atop a ballistic missile will raise tensions in the region.
It will negatively affect DPRK's relations with its neighbours.
I once again urge Democratic People's Republic of Korea to heed the call of the international community.
Third and finally, we are gravely concerned about the escalating conflict between Sudan and South Sudan.
I spoke yesterday with the President of South Sudan, Salva Kiir, as well as the Permanent Representative of Sudan and some regional leaders.
I urged both governments to cease hostilities immediately and hold a presidential summit to negotiate a durable solution to their differences.
War would only compound the already considerable sufferings of the people of Sudan and South Sudan.
What is required is political will and political leadership — at the moment of need.
This crisis requires the full and urgent attention of the international community. I have discussed the situation with US Secretary of State Hillary Clinton yesterday as well as Ethiopian Prime Minister Meles Zenawi, President Museveni of Uganda and I will be in close touch with regional and world leaders during the coming days.
Meanwhile, our UN envoys in the region are working with both sides to prevent a renewal of open hostilities. In this moment of inflamed tensions, it is imperative that both sides exercise the maximum restraint, in the interests of their peoples and their common future.
Thank you very much for your attention.