Eminent Family JOLY: Ireland and beyond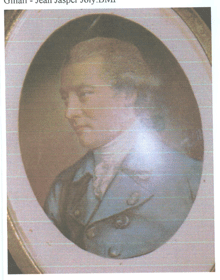 On 22 September 1977 a lecture was delivered to the National Library of Ireland Society in the National Gallery on The Joly Family - Jaspar Robert Joly and the National Library. The Irish University Review, a Journal of Irish Studies, printed the substance of the lecture in The National Library of Ireland Centenary Issue 1877-1977.
The historical account by Patrick Henchy (pp.184-198) highlights the lineage and wide prestige of the eminent family Joly in Ireland and their valuable contributions to the nation's life and heritage.
Eminent Family JOLY
On the back of a passport issued to him at Charneux on behalf of the Mayor, sheriffs and burgomasters in 1763, Jean Jasper Joly (1740-1823) wrote down the Joly pedigree dating from the end of the fourteenth century. Armed with his passport, he left his native country on 21 July 1763 to be a "voyageur". He was in service in London, is known to have travelled to Rome and also elsewhere in Europe.
He was brought to Ireland in 1769 in the service of William Robert Fitzgerald who later succeeded his father as the second Duke of Leinster. Born in Charneux in Flanders a certificate issued to Jean Jasper Joly by the Roman Catholic rector in August 1760 states that he was "born of honest parents, namely, Stephen Joly and Anna Johanna Jansen lawfully joined in wedlock." In other documents Stephen Joly is recorded with the title Marquis de Blaisey Ettienne (Stephen) Joly. His son, born 05 February 1740 in Charneux, Liege, Belgium, is recorded with the title Baron de Blaisey Jean Jasper Joly.
Information contained in the family papers, now in the National Library, show that the family was indeed distinguished. It had enhanced its position through its marriage connections and by reason of the legal positions which various members had filled over the years from 1380 when one Demongeot, also called Maud Joly, became Notary Secretary to the King of Beaune in Burgundy. Another, Regnault Joly, became Counsellor of Phillip the Good, Duke of Burgundy in 1420. For later periods we find more than one member of the family filling the post of Chief Clerk of Court to Parliament.
Bibliography and genealogy sources document a separation at the end of the sixteenth century into two branches of the eminent family as Joly de Fleury and Joly de Blaisey. Many of them held aristocratic titles and influential positions at the highest levels of academic, civic, legal professions and merchant guilds. Proud of their lineage, the Joly family proclaimed the family coat of arms: azure with a natural lily, silver, with a golden ground charged with a cross inlaid with black.
The family motto reads: Magnis amoris amor. The Irish branch later added: Nemo fidelior.
Ireland and beyond
Within a few years of arriving in Dublin, Jean Jasper Joly had established himself in the life of the country. In 1774 he was made a Freemason and became a Protestant. With patronage he went on to play a full and active part in the life of his adopted city. His marriage in 1774 to Mary Rumley from Ballydanielmore, Co.Cork, resulted in two daughters, Emilia Mary and Mary Louisa, and two sons, Charles Jaspar and Henry Edward. He died on 9 November 1823; his wife two years later. They were buried in the old St. Kevin's Church, Dublin. The Joly lineage is extensively recorded in Ireland, Europe and well beyond.
In the summer of 1846, the three sons of Henry Edward Joly and his wife Margaret: Jaspar Robert (1819-92), Revd. John Plunkett (1826-58) and Henry Charles (1825-91) decided to visit Belgium to find out more about their forebears. Their sister Mary died in 1851 at the age of twenty-one. They searched the old municipal books at Charneux and found entries for the births of their grandfather and great grandfather. They left Ireland on 20 July for Liverpool and arrived back at Dublin's Kingstown Harbour on 8 August, bringing with them copies of as many records of their family as they were able to find.
Dr. Jaspar Robert Joly (1819-1892), a Dublin barrister and one-time Vicar General of the Diocese of Tuam, Killala and Achrony, amassed a magnificent library, principally of Irish material, including rare books and pamphlets, maps, music, topographical prints and some important manuscripts.
When he donated his library to the Royal Dublin Society in 1863, it was with the proviso that "If a public library should be established in Dublin under the authority of Parliament … analogous to the library of the British Museum in London ... it shall be lawful for the said Society to transfer the collection to the trustees of such public library." Joly's collection of 25,000 volumes was transferred to the National Library of Ireland when it was formally established in 1877. Among his books were a number printed prior to 1500, first editions of many seventeenth century Irish authors, French works from the Napoleonic period and more than 700 volumes of sheet music.
Today, the Prints and Drawings Department houses three quarters of the Library's entire collection of Joly materials including 70,000 individual prints, several thousand albums and extensive holdings of drawings and watercolours. A portrait of Jaspar Robert Joly (1819-1892) by S. Catterson Smith, RHA, painted for the Royal Dublin Society, hangs in the RDS where it was first displayed in 1871.
Charles Jaspar and John Joly
Another member of the Joly family who achieved university distinction was Charles Jaspar (1864-1906). The son of Revd John Swift Joly, he became a Fellow of Trinity College, Dublin (TCD). In 1897 he was appointed to the Andrews Professorship of Astronomy and to the post of Astronomer Royal of Ireland; he lived at Dunsink. He edited Hamilton's Elements of quaternion and contributed scientific papers to a number of learned journals. At the time of his death he was Secretary of the Royal Irish Academy, a member of the Council of the Royal Dublin Society, and a Trustee of the National Library of Ireland.
John Joly (1857-1933) was a well known scientist and inventor. He worked in Engineering and Physics becoming Professor of Geology and Mineralogy at TCD, a post he held from 1897 to 1933, partly in recognition of his various inventions that brought fame to Ireland and beyond.
Burials in Ireland
Adjoining the attractive and well maintained St. Kevin's Church, the family graveyard at Clonbullogue, Co Offaly, commemorates a number of the Joly family, including Jean Jasper, the founder of the family in Ireland, and the Ven. Archdeacon Henry Edward and the Revd. John Plunkett Joly, both of whom served that parish as rectors. The church has marble plaques as well as a memorial stained glass window to the Joly family, and remains a pilgrimage place for many.
In memory of the part Dr. Joly had played in the setting up of the National Library, in 1973 the National Library of Ireland Society was responsible for the inscription on his tomb which commemorates his gift to the nation. It reads: Jaspar Robert Joly LL.D. d. 25th December 1892 aged 73 years. He donated his valuable library of books, manuscripts and prints to the nation. These are preserved in the National Library of Ireland.

Ita Marguet
* * * * * * * * * * * * * *
This text is dedicated to Marius Charles Joly, born in France, 01 July 2008, to Carine, n?e Marguet, and Pierre Emmanuel Joly. A previous text was dedicated to his sister, Camille Jeanne Joly, born in France, 17 December 2004.
* * * * * * * * * * * * * * *
Note: Acknowledgement is given to all sources used in preparation of this text. It follows published articles The Name JOLY: Celebration and dedication (December 2004) and Heritage of Ireland: JOLY Collection revisited (December 2006) by Ita Marguet. A separate text is entitled John Joly (1857-1