Green Valley in the snow: A White Christmas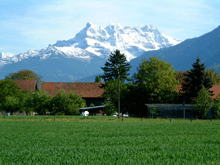 The name Green Valley is known in several geographical, historical and literary contexts. Close to home, the Vall?e Verte is a place with rolling hills and peaks in the region of Chablais bordering Switzerland and France situated south of Lake L?man partly in Haute-Savoie in France. Chablais covers around 993 sq. kilometres and has mountain peaks to around 2,500 metres. Medieval, military, cultural, religious and other influences on the area and its people are well documented in historical records that include extensive topography, archive and detailed bibliographies about the region.
With links to major airports, and good rail and road connections, the region is also served by boats that ply the lake between Switzerland and France. It is a place that offers a variety of seasonal leisure and pleasure activities not least of which are linked to the white gold and quality of its many renowned and smaller family oriented ski resorts. In a hamlet called Les Mouilles, commune of Bellevaux in the Green Valley, I have enjoyed numerous family celebrations in the true wonder and spirit of a White Christmas.
Bellevaux or lovely valley
Set in the heart of Chablais, the name Bellevaux is said to mean lovely valley, or 'belle vall?e' derived from Latin 'bella vallis'. Chronicled as 'very green', consisting of thick forest, it was given the Christian name by religious orders who established there. One time property of the Duke of Savoy, it remained isolated until the first road was built in 1880. Public schooling came late and children were educated by families or through a tutor system.
In the twelfth century, two religious orders had settled in the valley, the Benedictines (1136) Bellevaux and the Chartreux (1138) Vallon. A Benedictine priory was established and in time a Church of Our Lady of the Assumption was edified. Marian veneration has remained strong as witnessed by the abundance of well maintained family oratories, shrines, chapels and churches. In 1738 the parish of Bellevaux became a commune that flourishes today with responsibility for a wide expanse of territory in the region. Its land space comprises many hamlets, including Les Mouilles, accessible by road with connecting ski facilities to other resorts.
An interesting characteristic of Bellevaux is the local association 'Bellevaux - San Carlo'. It maintains links between Bellevaux and Argentinean cousins many of whom left in the nineteenth century for other places in search of a better life. Large numbers of them sailed to Argentina where in 1857 they founded the town of San Carlo de Norte. Eighty per cent of its population are said to be descendants of those original settlers with names and family connections who remain in touch through Bellevaux - San Carlo association.
A White Christmas
At l,000 metres, Les Mouilles is the hamlet where our family traditionally celebrates the wonder and spirit of Christmas. Early snow that continued to fall laid a thick blanket of white gold around the chalet and on the surrounding hills and peaks. In sub-zero temperatures, the night stars twinkled bringing a glimmer of hope for peace and happiness. In the true spirit of Christmas, we shared our thoughts and prayers with those young and old who were absent this year from the …Green Valley in the snow.
Ita Marguet
Note: All sources of information are acknowledged in the preparation of this article.