Haavard Homstvedt the most promising Norwegian contemporary artists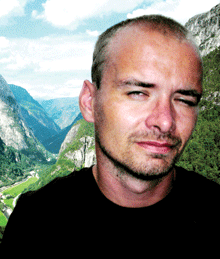 Norwegian artists, Gallerie Riis, paintings, painter, H?vard Homstvedt, United States
Remember that name! Haavard Homstvedt! He is, according to some prestigious London art magazines, one of the most promising contemporary Norwegian artists. We had the opportunity of meeting him in his studio, hidden away in the middle of New York's China-town.
Before coming to the United States, he studied art and design in Norway. His work has been shown at the Kantor/Feuer Gallery in Los Angeles, at IBID Projects in London, and Southfirst in New York, among others. This year, he was one of the very few Norwegian artists to be presented at the prestigious Basel Art Fair, and his work is shown by one of the most prestigious art galleries in Norway — Galleri Riis in Oslo. Despite the success, international fame and recognition, H?vard Homstvedt is a modest young man who has kept both feet on the ground.
Q: Who are you?
I grew up in Trondheim, but moved to Oslo when I was 18. I finished my baccalaureates there before starting at Asker Kunst og Design College, Asker. In 1999 I went to Rome (European Honours Programme), and then in 2000 I graduated with a BFA from Rhode Island School of Design (RISD) before I went to Yale University, School of Art, New Haven, CT.
Q: Why did you start to paint?
Nobody in my family are artists — my father is an engineer and my mother a social worker — so one cannot say that I come from a typically artistic family. Although, my siblings are both designers. I've always liked manual work, and enjoyed arts and craft classes in school. I started to do watercolors on my own quite young. My interest for this kept on growing, and then schooling came along.
Q: What is it like to be an artist in Norway?
There seems to be a bit of the mystique left in the public conception of the artist figure there. I like that. Certain artists have become part of the cast of characters that appear regularly in the media in Norway. They have an almost storied air to them. In the US, the art world is much bigger but tends to be rather insular, and there's really very few artists that cross over to become household names. In the end, it's not just the media image, it still is about the work, and it really is just a lot of work. Hopefully, good work..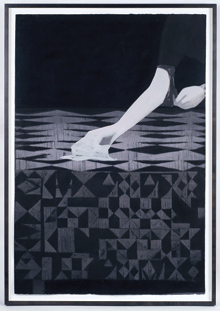 Q: You say that this is like work? Do mean that you can just turn off the creative button? Or would you rather say that when you are in the middle of it, you forget everything around you.
It's a very consuming process, and I often have difficulties detaching myself when I am in the middle of it. Of course, there are several phases in the creation of an artwork. In the beginning it's very intense. You are throwing ideas around, and then you have to pick one. When you are in the middle of it, a huge amount of work is involved before it starts to take on the shape you want. Often it's quite hectic, as you may be working to strict deadlines.
Q: Where does the inspiration come from?
Inspiration can come from everywhere. I often work from found photos or scraps of imagery I've stumbled upon. I keep a camera with me at all times, and take photos.
Q: How would characterize your style?
I like textures, the feel of handicrafts — the imprint, or weave, if you can put it this way. Often a kind of textile texture is present. I slowly build up the picture and I work quite a lot on it to get the right effect.
Q: We also hear a lot about an artist's frustration. What is yours?
Perhaps the feeling of not being able to go out too much — perhaps you would call it a kind of claustrophobia. I tend to spend quite a lot of time in my studio. Because I live and work in the same place, it's true that perhaps I do not get out enough. I just got a dog, which helps. She let's me know when it's time to get out and get some air, and sniff the bushes.
You do not get feedback from paintings — you are not there to represent your own work. I think it is nice when people come and talk to me about my artwork. However, it does not happen all that often. When it occurs it is often people who do not have too much experience of the art world. Nevertheless, I find it very enjoyable.
Q: So what are your plans for the future?
Just keep going at it, and sometime ahead find a place where I can make a base to work from.
Q: What about future exhibits?
I now have a yearly plan for future exhibits. I have received several offers next year to do things in London, and also here in New York. I would like to do some more in NYC.
Q: When you see one of your paintings hanging in somebody's home or elsewhere, how do you feel — a kind of pride, or have you turned the page and moved on?
Sometimes it's rather frightening to see a piece of artwork again — is it good enough or not? It's good to exercise a certain amount of self-criticism, as long as it does not hamper or handicap you.
Q: How many hours a day do you work?
Quite a lot — long hours. Right now I'm preparing a new art show in Oslo, Galeri Riis, in December.
For further information www.havardhomstvedt.com