Interview with Francesco Pisano, Director of United Nations Library at Geneva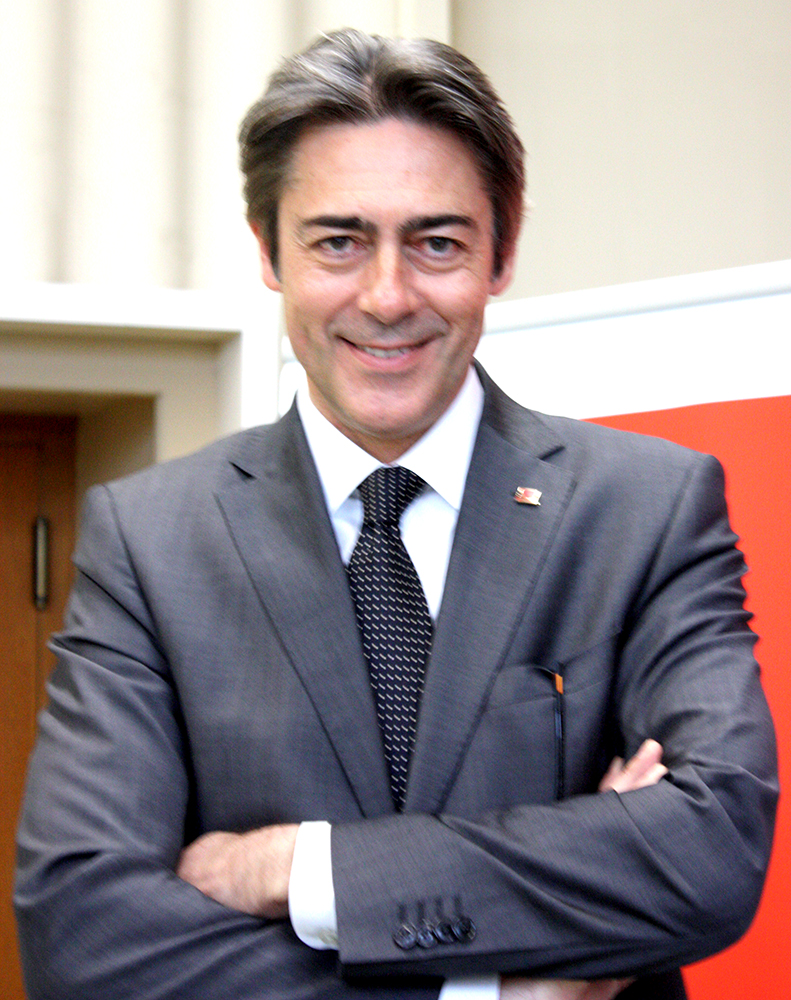 You have been heading the United Nations Library at Geneva for over one year now. What are your impressions?
I took up this position in January 2016 and ever since I have been accumulating reasons for being delighted with the job. First of all, the Library team is an exceptional ensemble of dedicated professionals with whom it is a constant pleasure to work. I feel very lucky: in 25 years with the UN I have been blessed twice with leading a team of women and men of such quality and motivation. Secondly, the Library is the temple of multilateral knowledge and research and it sits at the very core of the mission of the UN and International Geneva today as it did at the time of the League of Nations. It was established in 1919 to support the work of the League and was set in the current building in 1937. My office is the very office of all the head librarians before me and Wing B of the Palais des Nations was specially designed to accommodate the Library (B as in Bibliothèque). In the 30s, the Library was famous example of innovation and functionality, attracting visitors and praise for its importance and beauty. Thirdly, beside its monumental history, the Library is an exciting and vibrant place for dialogue, cultural diplomacy and intellectual outreach, with over 150 events each year. And finally, we are the custodian of the archives of the League of Nations, registered with UNESCO as collective memory, and those of the UN Office at Geneva since 1946. Many ignore that we are also responsible for the art collection of the Palais des Nations: more than 2,500 pieces of art from all over the world, spanning over one century of art history. You see now why Library is short hand for knowledge, exchange, culture and heritage, and why every day I am excited to get up and go to work.
What do you think of the debate around technology and the future of libraries?

This debate is very much on and I believe it is useful and promising. We have moved beyond the old fashioned perception of digital and paper as incompatible knowledge systems destined to compete. Today no one in the knowledge and research agora asks why we need libraries in the age of internet and I believe this was a false dichotomy from the start. Libraries sit firmly at the top of the knowledge systems pyramid since always and they will continue to do so in the foreseeable future. The question is rather how digital content and electronic means can reinforce knowledge and help libraries share information with those who need to access and use knowledge. While knowledge systems have become mostly horizontal and globalized, there are questions of knowledge preservation and guaranteed access to information that are still open. Libraries are tackling these issues in the interest of collectivities. The fact is that libraries have always been the custodians of the cumulative knowledge of humankind and they perceive this as a responsibility. I think this is an important asset as information and knowledge are put online and the internet of things becomes the main generator of data. It is probable that our future as a civilization will be entirely on-line. In such case, it is conceivable that at some point we may have to revert to the original knowledge resources for validation, or even for rebooting, who knows?
The UN system is putting a lot of energy into Agenda 2030, how do you see the role of the Library?
I am a firm believer in the vision of Agenda 2030. The Agenda is in essence a political manifesto with the potential to shift the paradigm of international relations and open a new era of collaborative and inclusive global action. Its reference system, the 17 global goals, aren't just a series of aspirational objectives, they are also the indivisible matrix of transformative progress. Suffice to see how each Goals is linked to several others through the web of the 169 Targets underpinning the 1SDGs. Each goal is also a global issue we must tackle to succeed in transforming our world before it's too late. And here I see a strong link with the work of our Library. Solving global problems requires global knowledge contextualized in local dimensions. Since its creation in 1919 our Library has been accumulating knowledge on global matters. 1.6 million books and over 70,000 digital resources are available at our site, not to mention millions of references that can be accessed through our catalogues online. It is now time to mobilise this immense wealth and redistribute it through international and national networks to feed experts and national actors who have the task of implementing the SDGs. The plan for such redistribution is outlined in the Agenda itself: our first initiative was to classify the 's knowledge base according to the 17 Goals. We just created a new research guide that provides our users with a selection of references specific to the SDGs. Even fdor those that cannot access our Library, the guide is a valuable catalogue of available knowledge. It is an initial step that will be followed by other initiatives in collaboration with international and national libraries. We work together with other UN libraries and also with members of the International Federation of Library Associations, a global network of libraries and knowledge scientists who decided to focus on supporting the implementation of Agenda 2030 worldwide.
The team at the Library is always planning something new, can you share with our readers some exciting projects you are working on?
Contrary to what some may think, the Library is a rather exciting work place. Because we are in charge of a variety of services on top of library services, ranging from preserving the history of the League of Nations and the archives of the UN Office in Geneva, to managing the art collection of the Palais and providing the space for the cultural activities sponsored by Permanent Missions and International Organizations, we are constantly exploring new ideas and responding to new user requirements.
Libraries are in constant evolution, even though this is not always apparent. The most exciting development on the horizon is taking shape just now, in view of the 100th anniversary of our Library, in 2019. Our plan is to regroup knowledge, learning and multilingualism services into a knowledge and learning Commons. The Commons will be accessible to all users and beneficiaries working in the organization but also open to external researchers. We are working on this project together with Human Resources and the UNOG Centre for Learning and Multilingualism and we hope to see the first results already in 2018. Many large libraries and learning centres have transformed into Commons to adapt to the changing world of knowledge in the digital era. It is a key evolution phase that should apply to us as well. We are reinterpreting this concept to adapt it to the reality of UNOG and to help the United Nations become a modern, knowledge-based organization. In parallel, I am working with the head of the UN Library in New York and other colleagues to set up a dedicated network of UN libraries to mobilise the knowledge of the UN at a scale that was never attempted. Knowledge is a global asset only if it can be both mobilized and accessed globally. Today our libraries use integrated library systems that allow solutions that weren't possible until recently. Our goal is a UN Knowledge Network accessible by everyone anywhere. If the UN belongs to everyone, so does its knowledge.