Interview with Ousama Ghannoum, Marketing and Media Director of Aldar

Dubai, Abu Dhabi, Aldar, construction, architects, buildings, world trade centre,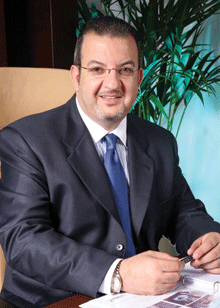 He is a young and dynamic Jordanian national who is in charge of some of the most important development projects in Abu Dhabi –– the capital of the United Arab Emirates. Located at the south-eastern edge of the Arabian Peninsula, this country also consists of over 200 islands. With 9% of the world's known oil reserves and 5% of the world's gas reserves, the resulting revenue has been multiplied with international investment to total US$1 trillion, making this city of 1.7 million citizens one of the richest in the world. The city is diversifying its economy and expanding dynamically with a real growth of gross domestic product of 11% and over US$140 billion of civic investment over the next five years.
At the heart of this blooming economy with projects popping up all over, you find Mr Ghannoum. He leads a hectic life, but despite all the stress he remains smiling and polite. So, just hold on to your hat, because what this man is involved in is something that most of us can only dream about …
Q: Who are you and what exactly do you do?
I'm originally from Jordan, but now live in Abu Dhabi. I'm the Marketing and Media Director of Aldar Properties, which is a public company. I'm in charge of all our projects: launching them, branding them, as well as the public relations and the media. So I regularly update the media on the major events that are happening with our company.
Q: Can you tell us something about your company?
The company was established three years ago. It's a publicly-owned company with shareholders from the UAE, the Gulf region and around 40% of foreigners. Some of them are banks from Europe, the United States and Asia.
We are developers and we are the spearheading the development of Abu Dhabi. We are entrusted to create the multi-billion Dirham civic projects to develop the city, establishing new sectors for commerce, housing, retail and leisure. As the premier real estate development, management and investment company, our vision is to establish Abu Dhabi as the United Arab Emirates' most dynamic forward-thinking real-estate market by creating unique and prestigious developments that can be used as a benchmark of quality, whilst adhering to the cultural and natural heritage of the city.
To date, we have announced projects totalling up to US$70 billion; there are lots of exciting projects –– each one is unique.
One of our flagship projects is a US$40 billion project, the Yas Island project. The Yas Island is a huge, natural island of 2,500 hectares. It is going to become a major destination for tourism in the United Arab Emirates. When people travel to Abu Dhabi, they will go to Yas Island for entertainment. It is intended to become a unique international tourism and luxury leisure destination
It will have the first ever Ferrari theme park –– the Ferrari World Abu Dhabi –– which is something we are all excited about. It is being designed by a well-known American company named Jack Craws and Associates. Next to it will be a Warner Brothers Theme Park, and a state-of-the-art Water Park –– a kind of water world like the one in Miami. Of course, there will be golf courses –– one of the courses will be a links golf course, which means that it runs along the coast. This will be the first one in the Middle East.
There will lots of entertainments, such as go-carts, a huge shopping centre of some 3.8 billion square feet designed in a very interesting way. It's exciting! Next year on Yas Island we will open the first Formula 1 race track in Abu Dhabi. This is also something we are looking forward to. It has a beautiful track designed by a German company. The interesting thing about this Formula 1 track is that it too will be on the edge of the sea so that people on boats will be able to watch a large part of the race. There are lots of big marinas on the island so a lot of people can enjoy the race while being at sea. That's one major development.
Another project, very close to Yas Island, is our second largest project costing US$16 billion. It's called Al Raha Beach and construction has already started.. It consists of an 11km waterfront beach city, which will be the gateway to Abu Dhabi. We expect around 30,000 people to live there eventually. In the middle of Al Raha Beach, you will find Al Dana, which will host the first World Trade Centre in Abu Dhabi. The World Trade Centre has been designed by Lord Foster and Partners. We are all excited about this project because it's going to be a very unique structure. It will be surrounded by very beautiful towers, and hotels designed by renowned architects.
Built around a circular Marina, Al Dana is the commercial hub and heart of the Al Raha Beach development. Pooling the talents of world-class architects and contractors, it will become a haven and a home for the highest echelons of society, mixing commercial and residential properties with superior entertainment, dining, leisure and yachting.
Q: Do you only pick the stars of architecture? What about the others?
No, but some of the well-known architects have very interesting ideas. People can always contact us. In fact, we have received so many interesting projects that we are working with some of them today. In fact, what is important is that the architecture is interesting –– something that is commercially viable, easy to construct and part of the master plan.
The master plan for the island was designed by a British company called Binoy, who are very well-known architects and landscapers. For the Raha Beach, because it's a waterfront city, we brought in a specialized Australian company, Esquisse. In Australia they have very good experience of developing waterfronts.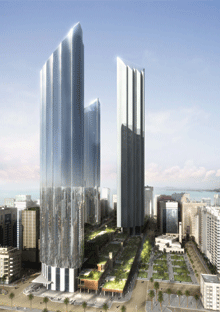 Q: Who is going to live there? I suppose it's going to be quite expensive?
Today, demand is greater than supply, so we have a problem. I think that over the coming years demand will continue to outstrip supply. However, the situation should evolve in the next five years. There is lots of construction going on. We are also opening schools.
The government is very much interested in education and health, so lots of people will be coming to live there. We alone have thirty-six hotels in the pipeline and twenty schools with different levels of curricula. It's part of the economic cycle –– the more you build the more you will sell, the more people will come. Lots of people will use it as their second home. They come during the winter –– the retirees to play golf and enjoy the nice climate. It is a very secure place, and there is no income tax, no customs …
Q: We have the feeling that everything is now happening in the Middle East, and not so much in China as it used to be some years ago.
There is a dynamic feeling. I think the whole area will change over the next five to seven years. While in the 1960s and 1970s we experienced the oil boom, today we are facing another boom: the real-estate boom. Every project is something unique and very beautiful.
Real-estate development is becoming really exciting, and everybody is doing something interesting. You do not know where you should live –– there is such a choice of good entertainment, hotels and restaurants.
We are creating a motor world –– everything that has to do with cars will be under one roof. Lots of things are happening with lots of new ideas. There will be things to do for the whole family. Art and culture lovers will go to the museums; those looking for other types of entertainment will find their fulfilment.
I'm really looking forward to the next two-to-three years –– the whole country will change as we are expecting more tourists. Airports and runways are expanding to welcome the new flights.
Q: What about culture?
The government has lots of projects in this field too. They have another island project reserved for more than ten museums. They have already announced some: the Guggenheim, the Louvre, Performing Arts Centre …
Q: What about your new World Trade Centre in Abu Dhabi?
It is a very imposing tower like a sculpture made of aluminium and titanium. There are four towers inside it, but you cannot see that from the outside –– and with a garden. There will be one residential tower, one office building with a business club, a hotel and conference facilities and food and beverage outlets. It leads down to the marina where food and beverages will be sold surrounded by fountains. It's a very interesting design carried out by Lord Norman Foster. It will be completed within the next four years and I hope we will have a lot of visitors.
Q: On a more personal note how many hours a day do you work?
I easily work 10 hours a day, sometimes it can be 11 or 12, but nobody leaves before 10 hours of work. It is not a 9 to 5 job!
Q: It seems like you are enjoying it?
I love it –– you have to be passionate about it. With the new launches, the branding, advertisements … there is never a dull moment. You have to be creative and always come up with new ideas.
Q: How did you end up doing all this?
I think it must be maktoub (destiny). I was working with the agency that started Aldar, and I was working with the World Trade Centre for seventeen years. In fact I'm a Board Member of the World Trade Centre in New York, but I was working in Jordan since 1990 until 1998 as the General Manager of the World Trade Centre in Amman. Then I joined Aldar as a Marketing Director and we will develop the World Trade Centre in line with the general development.
Q: Do you think that people in Dubai will be jealous of your venue?
Not at all, it is rather the contrary. The people in Dubai have done a great job in promoting their city. Today, most people know the UEA and where we are located. They are doing beautiful things, and we will do other things in order to complement each other. There will not be competition, because a lot of visitors from Dubai will come and visit Abu Dhabi and vice versa. There will be a lot of interaction; I see it happening.
However, Dubai has done an excellent job in putting Dubai and the United Arab Emirates on the world map. Everybody knows Dubai.
Q: Do you find it more difficult to talk about Abu Dhabi when everybody is more familiar with Dubai?
Abu Dhabi is the capital and has some 85% of the territory of the country. It's the financial hub, the government centre, the oil is located here, etc. Dubai is a more touristic and more trade oriented. They are two different cities and they complement each other, and at the end of the day –– they belong to the same country.
Q: Is there is something you would like to highlight in particular?
Everybody is very concerned about the environment and we work closely with the Abu Dhabi Environment agency. We like to do things properly, so all our buildings are "green". In 2006 the government launched a very interesting project –– the Masdar (the source)–– since it is seeking to reduce its long-term dependency on hydrocarbons. The Masdar Initiative has signed up major oil and technology companies, universities around the world and UAE ministries to help develop and commercialize renewable-energy technologies.
It's very interesting that an oil-producing country is concerned about this theme. The concept is beautiful. Can you imagine living in a city where there are no cars? They are looking at everything. We hope to achieve zero emissions, but perhaps this is not feasible –– at least it will be reduced to the strict minimum. So it will definitely be a nice place to live…
Leaving Mr Ghanoum, we have a certain feeling of being at the wrong place. Perhaps Adu Dhabi should be our next destination…
For further information about all the different projects you can consult the Aldar website: www.aldar.com