MIG Investments - Innovative generation in trading business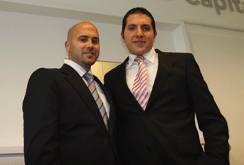 Neuchatel, MIG, Hisham Mansour, Wissam Mansour, trading, business, investments, banking and trading serives, global investment services
MIG is not only a dynamic investments company established in Neuchatel. Managed by Hisham and Wissam Mansour, two young Jordan entrepreneurs specialized in Trading and Investments services, MIG is determined to offer a new style of banking and trading services worldwide based on a new concept of client relations and diversified global investment services.
Q: Why especially Neuchatel while your competitors choose Geneva, Dubai or London?
Wissam Mansour
We initially established our company in Jordan on 1998 with 50 employees. It scored a noticed success in the region. As we are targeting global clients, we aimed to move our business to a highly reputed country in the field of investment and financial industry. Why Neuchatel? Not only for tax reasons. We moved to Switzerland as it offers a dynamic economic promotion conditions. Our online traders are managing more than 12000 accounts belonging to clients from 110 countries. It makes sense for us to be in the center of Switzerland which means security, quality, professionalism and outstanding services. All our customers wish to be served by a Swiss entity.
You are considered as a successful young company working within a challenging economic context. What is your main asset?
Hisham Mansour
Our people are our main asset. Great people make great company. We are motivating them by offering the best working conditions. We are hiring the best people as we are committed to invest in people. Providing quality is our permanent challenge. We grant higher salaries than others but we hire the most qualified people. Best people provide the best service.
In spite of the current uncertain economic environment, you are moving forward to operate as a bank? What would make you different from other financial companies?
Wissam Mansour
We witnessed different effects of the economic crisis during these 9 past months. For us, becoming a bank is a unique step for several reasons. We are not operating as a private bank but we are offering different trading opportunities and we will offer traditional banking services in the near future. We are expanding our services to include trading in bonds, securities; forex services added to a variety of modern investment services .We are looking forward to offer a new model of banking services.
MIG is granting Forex trading services to clients from 110 countries. What are the features of your multicultural working environment?
Hisham Mansour
We hire people who are not only speak different languages or handle relations with customers at the highest level of proficiency , but we relay on people who are able to deal with different cultures. We are achieving a long term relation with all our partners and customers. We provide them the best service in the market. Our company is unique. We are working together within a human motivating team spirit.
You place your "Social Responsibility " in the heart of your philosophy. Do you mean your internal or your external responsibility towards your customers and partners?
Hisham Mansour
Our social responsibilities are the vital key of our philosophy. Both aspects are important: internal and external. We internally promote efficient work standards in the company. We achieved both 9001 and 27001 ISO certification standards for quality and security. But our customers remain our main focus; our responsibility is granted through the best quality of service and customer information tools.
Your company is innovating by revealing its business identity within a" MIG Planet "…
Hisham Mansour
We elaborate and update in MIG Planet a sound trading environment which shows our permanent attention to our customers. It is our identity .Our strategy is securing a sound business environment for our customers to make them aware of the evolution of the markets. We are working to achieve outstanding services. Our identity is also one of our communication tools.
You are applying a dynamic human resources policy by hiring more people while others reduce their manpower …
Wissam Mansour
Banks and other businesses are dropping people while our plans for 2009 and 2010 forecast to hire more than 30% of our staff power .We advertise in major finance newspapers. Observers are surprised by our new perspectives as we are growing while other companies declined. We are different as we are offering a variety of outstanding trading and investment services. As we look forward to the future, we could consider that our customers are looking for alternative investments. Forex Trading was considered in the near past as risky. Not now; as we offer secured services while other investors are recording losses in the management of their private equities and faced deception with their shares, stock and bonds entrusted to some banks.
What is the nature of MIG's contribution to the UNICEF programs?
Hisham Mansour
MIG does not sponsor any specific activity or project of the UNICEF, but we give it our contribution to help reaching its goals. We even invite our customers to grant a part of their profits to the UNICEF.
MIG has recently signed a sponsorship agreement with Brawn GP team. What is the aim of this smart initiative?
Hisham Mansour
We are extremely proud to join Formula One's newest sensation, the Brawn GP team. This collaboration marks an important synergy between two young, innovative and ambitious team, both leaders in their respective fields. We believe strongly of innovation, teamwork and dedication. Our partnership with Brawn GP is further testimony to our strong industry position and confidence.
You handle daily serious responsibilities. What was your amazing surprise on 2009?
Wissam Mansour
Our great surprise at the beginning of 2009 was that customers and specialists in our sector were surprised how banks are collapsing while we are growing our business, hiring more people, sponsoring highly competitive sportive challenges and exploring new segments of the market. It shows that MIG is moving towards more success.
A.H - Horus ?diteur