Ten years of service for Geneva's international community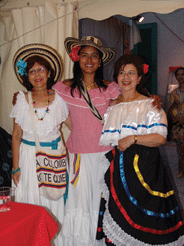 International Geneva Welcome Centre (CAGI) celebrated its tenth anniversary in 2006, and in September hosted a huge celebration party for the internationals with more than 1,000 guests at its headquarters — the Villa la Pastorale on the Route de Ferney. The Director of CAGI, Mr. Francois Schmidt, kindly received us to talk about the Centre and its mission.
Inaugurated in 1996, the International Geneva Welcome Centre is supported by numerous public and private partners with the aim of assisting the international community in different ways. In the early days of the Centre, services were concentrated on housing and other forms of assistance. Two years ago, with the arrival of Mr Schmidt, the Centre started to organize events so that the international community will get to know more about lifestyles and customs — about Swiss culture.

Q: Can you tell me briefly what CAGI does?
We organize excursions of various types for the international community — sometimes this is for families with a special emphasis on activities for children; sometimes it's for ambassadors; at other times it's more for the general public. Each time, we have about 100 persons attending our events.
We have also established a partnership with the "Fondation pour Gen?ve", which is animated by volunteers from the city and they encouraged people to discover Geneva — institutions of all kinds ranging from the economic, the governmental, to the cultural. The intention is to integrate the international community. We think that integration is made by spreading knowledge about the other, about ourselves and our culture.

We have just established a tourist counselling service. I must make it clear that we are not a travel agency, but we will provide information to the international community and give them some guidance on what to see in Switzerland. This service will be operational as of November 2006, and we collaborate with different partners, such as Swiss Tourism, etc.

Q: What should people do if who would like to obtain information about you?
They should go to our web-site: www.cagi.ch. They should look at "Happy hours" under "What's new?" and subscribe to our news alert. For other events, we sometimes send out the invitations by e-mail. Sometimes our activities are designed for a particular group and then we contact them directly.
There are about 40,000 persons who are entitled to benefit from our services. It's free of charge. We are there to assist people and therefore they should definitely not hesitate to contact us.
Q: What are your plans for 2007?
In this forthcoming year we are planning to intensify our collaboration with Swiss Tourism, and we might organize excursions over a weekend, something we have never done before. We have ski competitions, tennis competitions … quite a lot of sporting events, etc. So we are going to continue in the same spirit …