"The war... any war... is a war against public health" - Interview with Dr Khalid Shibib

"In crises, you see the true nature of human beings"
When there is a hot spot, a natural disaster, you can be quite sure that Dr Shibib will be there. Born in the former Palestine in 1947, Dr Shibib became a refugee when he was less than a year old. His parents fled from the war in Palestine to Iraq. Growing up in Baghdad, he was trained as a medical doctor and later became a specialist in neurosurgery
During his clinical career, he gained reputation for his professional capacity and yet he has remained a modest, even a humble man, who can explain the brain, its functioning and the latest research in such a clear way that even the most ignorant understand its functioning.
Despite the fact that he has endured his share of human suffering, he is still ready to stretch out his hand to help others, no matter where they are and who they are. To him, they are all human beings with the same value. He worked as a surgeon for the Palestinian Red Crescent Society (PRCS) at different times, operating on patients in war-zones where he was confronted with difficult choices. In many instances, he had to pick those who might survive, and those who stood no chance. Not an easy task for a young doctor. Later, he went to live and work with the PRCS in Egypt, which he left during the first Gulf War. He found himself in Germany where he continued his clinical work. For the last fourteen years, Dr Shibib has been working with the Health Action in Crisis Team at the World Health Organization (WHO). From here, not only has he travelled to numerous disaster areas — Africa, the Middle East, Asia — but he has also earned a reputation as a kind, competent and valued colleague.
Despite his busy schedule, he kindly accepted to talk about his experiences, his passions and his life as a humanitarian in his personal capacity. So we give the floor to Dr Shibib …
Q: You were the first health professional to reach the earthquake in Bam, Iran. Could you tell us about it?
If you want to simplify the situation: the earthquake killed one-third, injured one-third and displaced the remaining third of its 100,000 inhabitants. It was early morning when I flew over Bam. Over the city you could see a big, dark hole — all around there was nature, but you could clearly see that the heart of the city was destroyed. The first day you arrive in a disaster area, you are overwhelmed by the dimension of the tragedy.

The main heroes in Bam were actually the Iranian authorities themselves, because they, together with the army and the Red Crescent, transferred 12,000 injured patients to cities throughout Iran. The fact that they flew all the wounded patients to hospitals around Iran gave the international community the opportunity to focus on the broad public health issues — that is, water supplies, the risk of diseases, vaccinations, children's health, etc.
Q: Just a practical question … How did you manage to reach Bam? How did you obtain the visas to go there?
It happened during the Christmas holidays. I spoke with my boss and I was there in less that 48 hours .The Iranian Mission in Geneva exceptionally opened its doors and gave us (the UNDAC team) visas. I then went to Tehran and from there to Bam in a flight set up by the Iranian Red Cross, with support from our office in Tehran.
Once we had landed, the first thing you do is to start looking for colleagues. Once this has been done, then you start looking for your luggage. Mine came three or four days later. It was very cold at the time. OCHA had set up tents and you share everything with them.
Q : What is the first thing to do in a situation like this?
In the first hours, you struggle with yourself because there is nothing. The hotels are all damaged; then rescue teams come in and set up tents. In the beginning, you become dependant on their infrastructure for essential services until you manage to get
settled.
The next step is to find out "who is who" and "who is doing what", because you cannot act in isolation. Second, you have to try to help. However, the first thing that collapses in a disaster is the information system. That is why, when an earthquake occurs, you will first hear that the number of victims is perhaps 200, then it may increase to 3,000 before falling to 400, etc. Conflicting figures fly all over the place. Without correct figures and information, the international response machinery, which is perhaps being prepared in London, Berlin, Oslo, Stockholm, Rome, etc., could react in the wrong way. You have to tell these people what the real dimension of the disaster is and what is actually needed; otherwise they will provide you with everything they can instead of what is actually needed. This is a big problem in disasters.
One of the lessons learned from the Tsunami, for instance, is that many of the drugs donated were not those needed, some were out of date. The drugs that you want properly to destroy infection cost a lot of money, so they are additional burden the country. It is WHO's function to assess the situation. It is so important, in the first couple of hours, the first couple of days, to be efficient in directing the international community's response, telling them what the main health issues and diseases are. If everybody is concentrating on the dead bodies and the risk of disease from the cadavers, that is not the right direction. The main question is where are the wounded? Are they receiving proper treatment in hospitals? Where are the internally displaced persons (IDPs) who left their homes? What are they drinking and eating? Do they have shelter? Are they benefiting from any health system? Are they getting the drugs they need? Immunizations? Who is providing health services?
During the Bam Crisis, we operated beyond working hours. Most co-ordination sessions with NGOs take place under tents late in the evening. All the time you are being asked questions. An NGO would like to fill a gap — where? So you have to tell them. What should be done first? This is the responsibility of WHO.
Q: What about the dead bodies?
There are lots of myths about dead bodies. They don't pose per se threats to public health.
Q: When you are in a situation like this, do you create friendships with the other humanitarian personnel?
Of course, you start building nice relations. For instance, during the Pakistan earthquake, the first tent was set up by the Swedish teams. Everybody was using their services: kitchen, showers and toilets, etc.
Q: In what situations have you been the main focal point?
Most recently, I was the head of the WHO team in Muzaffarabad following the earthquake in Pakistan. I stayed there nearly one month.
Q: What is the most difficult part?
At the beginning, you have difficulties in looking after yourself: keeping clean; taking a shower, getting food, getting enough sleep. This is a big burden. The constraints in the beginning are difficult because they concern your own functioning. You need to care for yourself to a certain degree so that you can face the difficulties in the best possible physical and mental condition, to deliver the work you are supposed to deliver.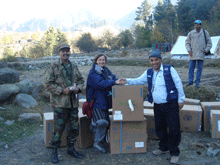 Q: What was the most difficult situation for you?
Muzaffarabad was not easy — everything was a challenge. For instance, at the beginning, the Swedes who set up the showers provided access only between 7 and 8 in the morning and 7 and 8 in the evening. If you were not there, you could not take a shower. Later, of course, it became better security wise. You are relatively protected. The only things that bothered us were the after-shocks. In Pakistan, for instance, we were already sleeping in tents when they took place, so there was no risk.
When you are living a very primitive life, everything becomes an achievement. In the beginning you sleep on the ground, and then you get a camp bed, later a blanket. For instance, in Pakistan at 7 o'clock in the evening it was already night, completely dark with no electricity. The nights were terribly cold. You could compare it to the Sahara where you freeze at night. So after two nights of freezing cold, you discover where the blankets are kept, how to operate the heating, etc…

One day in Bam, I wanted to sleep in a real bed in a hotel. Somebody had told me that vertical cracks in buildings were not a problem. The dangerous ones are the horizontal ones. When I looked at the hotel walls, all the cracks were horizontal! I was tempted to change my mind about sleeping in a bed and having a proper shower. But I did not. That very same night many after-shocks were felt…
Q: We have been told that you take food with you when you go on these missions?
You are never sure what you will find when you go to these areas. In countries where there is an emergency, often there is nothing — no markets, nowhere you can find things to buy. You may have been working late in your hotel room and at midnight you are hungry, but there is no restaurant you can go to. Even if there is a restaurant in the vicinity, you cannot leave the hotel for security reasons. So, in order to be on the safe side, you need to have your own logistical support with you. This often consists of some apples, biscuits, coffee, etc.
From a more practical aspect, you would need a small stove, because you do not know the quality of the water and, besides, you would like to drink something warm — tea or coffee. If you have an early morning meeting, it is better to have something to eat for breakfast … and coffee. After all these years, I have gained a certain amount of experience. Nowadays, I am much better equipped than before. I always carry a torch, electrical cables and connections of various kinds, food — everything I may need...

Q: What kind advice would you give to somebody who is going on his/her first emergency assignment?
First, they should read about the country where they are going: the temperature at night, during the day. You do not take a thick coat if you are going to a warm country. Second, if you are not travelling in a team, you ought to know something about the role of the UN and WHO in a crisis. You also need a telephone that works. If you are sent by an organization and do not report back to them or "if you sleep on the information in the field", it has exactly the same effect as if you were not there. You could just as well be staying in London! You also need a computer with all kind of plugs. There are several electrical systems and sub-systems (in some places there is no system at all!). You do not know what you will find in the field. So take dual, triple plugs. However, the most important thing is cash! Credit cards do not work and I would say that it is essential that you "do not forget the cash". Even if you have forgotten most of the things you need, you may be able to buy them. With difficulty, perhaps, but you may still be able to find them.
Q: You used to tell me about European time, Asian time, Arab time, etc. What would you say now on this subject?
I mention this with some amusement and not as a racial slur. For instance, sometimes, when you request a meeting, people need to be gradually introduced to the idea of the meeting. You cannot simply tell them that "it's 8 o'clock, and we will discuss the matter right now". In some cases, you have to prepare them, introduce the subject. It depends on the atmosphere of the meeting, who your audience is, the subject, how tired people are, etc. On many
occasions, you cannot start discussing the subject on time …
Q: Can you compare WHO to the brain?
All organizations have a central nervous system built upon information management. There is a centre/periphery relationship. Due to the regionalization of WHO, I think you have more autonomy and more power in the regional offices than in other centralized organizations. But, of course, I am talking about a central nervous system and not a brain.
Q: Do you prefer to work within the clinical field or at WHO?
Ideally, I would like to combine both, but this is impossible. Bureaucratically impossible. You cannot have everything. For example, I would like to spend the winter in the Orient and the summer here. I would like to enjoy the punctuality and effectiveness of the Europeans and the generosity and friendly atmosphere of the Orient, etc. I have learned that freedom is to have many choices, at least more than one, but this is not always possible …