Viet Nam: Partnership for Sustainable Peace and Development Interview with Ambassador Dr. Le Thi Tuyet Mai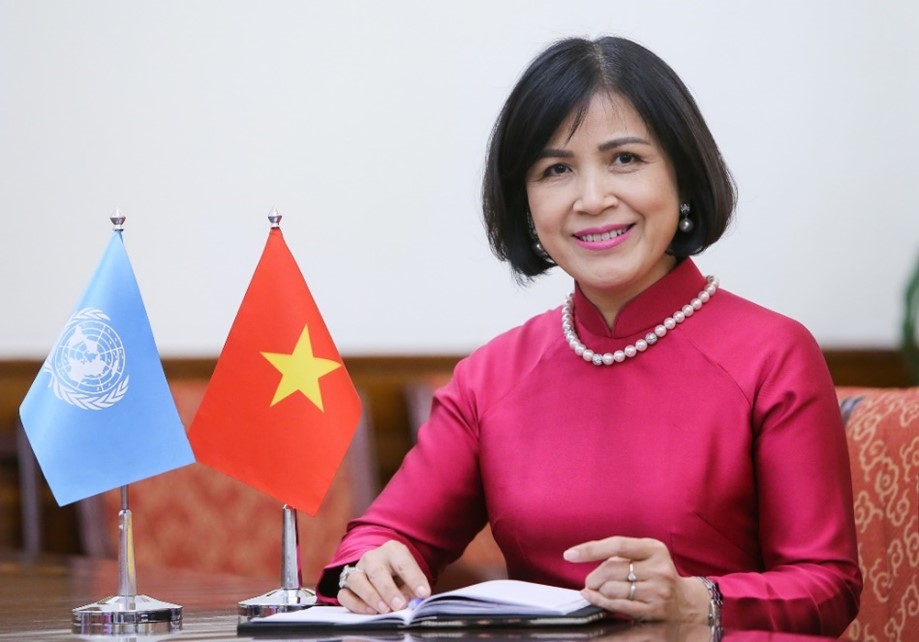 Q: Your Excellency, could you please tell us a little about your background?
I joined the Ministry of Foreign Affairs in early 1991. In my diplomatic service over 30 years, I have been working on law and diplomacy for promotion of international cooperation in addressing issues of international law for peace and development, including participation in diplomatic negotiations, international conferences, meetings, and workshops, domestic law making and enforcement. Before coming to Geneva, I was Director General of the Department of International Law and Treaties, while also serving as Member of the Central Executive Commission of Viet Nam Women's Union and Vice Chair of the Committee for the Advancement of Women of the Ministry of Foreign Affairs. I was posted in Norway as Ambassador from 2013 September to 2016 October. Since 8 February 2020, I have served as Ambassador, Permanent Representative to the United Nations Office, the World Trade Organization, and other International Organizations in Geneva.
Q: This year Viet Nam celebrates its forty-fifth anniversary as a member of the United Nations. What do you consider to be your country's main achievement in the international arena and especially in the area of multilateralism?
On 20 September 1977, Viet Nam became the 149th member of the United Nations (UN), starting a new historical journey in national construction and defense. That 45 - years journey has seen the country from a least-developed status reviving from the ruins of wars, its "Đổi mới" (renovation) process and international integration, and its great efforts to become a middle-income developing country with a dynamic economy. From a country lacking food for its own population, Viet Nam has become one of leading exporters of rice and several other agricultural products, contributing to food security in the region and the world, and is ready to join the UN in coping with the current food crisis.
Also, during this journey, with the support from the UN and country partners, Viet Nam was able to build market economy institution, develop human resources, realize most of Millennium Development Goals, especially on poverty reduction, gender equality, healthcare, and education. Viet Nam is strongly committed to and actively implementing the 2030 Agenda on Sustainable Development.
Viet Nam has always been a reliable partner of the UN and the international community and is ready to shoulder responsibilities and constructively contribute for sustainable peace and development in the world.
Our country has been a strong proponent of multilateralism, upholding the UN Charter and international law, making tireless efforts for sustainable peace and development. We have sent our peacekeepers to UN Missions in South Sudan, the Central African Republic and Abyei. We pioneered the reform of the UN development system at country level with the Delivering as One Initiative since 2006. During our terms in the Security Council (2008-2009 and 2019-2020) and the Human Rights Council (2014-2016), Viet Nam has strived to advance the women, peace and security agenda, brought attention to the impacts of climate change on the enjoyment of human rights, promoted the cooperation between the UN and regional organizations, and strengthened the normative framework for the protection of civilians.
In the field of development, Viet Nam presents a strong voice and great sense of responsibility in building an international economic, trade and financial order that is fair, equitable, inclusive and rules-based, protects human rights and legitimate interests of developing and underdeveloped countries. We are a strong proponent of open trade under the rules-based multilateral trading system with the WTO at its core. Viet Nam's imprint is also widely spread through the trilateral cooperation model (initially between Viet Nam, FAO, Senegal on rice cultivation, later becoming a model for South-South cooperation), the implementation of the initiative "Unified Action - One UN", joint efforts to combat the COVID-19 pandemic and especially our strong commitment at COP26 to bring net emissions to "zero" by 2050.
In the field of human rights, Viet Nam is currently a party to 7 out of 9 key international conventions, seriously fulfilling all relevant obligations. At UN mechanisms, Viet Nam actively cooperates with like-minded countries to contribute a balanced voice and fight against the trend of politicization; advocate an approach based on dialogue and cooperation; uphold the realization of economic, cultural, social and development rights in accordance with the common interests of developing countries.
This policy has also been promoted by Viet Nam during the period it served as a member of the Human Rights Council for the 2014-2016 term, including being a member of the Core Group of promoting resolutions on ensuring human rights in the context of climate change. Most recently, Viet Nam was elected as a member of the Human Rights Council for the term 2023-2025. This would further help Viet Nam to contribute to the work of the Human Rights Council and pursue its consistent guidelines and policies on ensuring and promoting human rights.
Q: Viet Nam has undergone impressive economic development these last years. Could you tell us a little about it and how you have managed this tremendous ascension?

Since the adoption of Doi Moi policies in 1986, with consistent domestic reforms and international integration for implementing development goals in line with the MDGs before and SDGs now, Viet Nam has achieved remarkable successes in both social and economic development, raising living standard of its people. Despite many upheavals facing the world economy in the past decade, Viet Nam retains an average growth rate of 5.9 per cent per year during the 2011–2020 period, ranking it among the world best performing economies. Particularly since its accession to the World Trade Organization (WTO) in 2007, Viet Nam has doubled its Gross Domestic Product (GDP) growth, impressively reduced poverty from 14% to 2% and become one of the twenty largest exporting countries in the world.
Such notable economic development is possible thanks to several factors.
First, the Party and State of Viet Nam had conducted timely and accurate renovation and development goals, strategies and policies, fully supported by the people. The consistent and long-term goal that we pursue is to build a Viet Nam of "rich people, strong nation, with just, democratic and civilized society", in which economic growth must go hand in hand with comprehensive social and cultural development, realizing social progress and justice and leaving no one behind. At the same time, Viet Nam proactively contributes to maintaining peace, stability and development in the region as well as contributing to the common endeavor of people around the world for national independence, democracy and social progress.
Second, the process of integration of Viet Nam into the regional and global economy has been consistently carried out. As the result of the open-door and integration guidelines, Viet Nam now has economic relations (trade and investment) with over 230 countries and territories worldwide; serving as a destination for foreign investors from more than 130 countries and territories. Our international integration has been facilitated by our domestic law and policies and our participation in thousands of bilateral and multilateral agreements on various fields; including the network of 15 FTAs such as CPTPP, EVFTA, RCEP; and we are continuing FTA negotiations with several other partners.
Third, Viet Nam has successfully attracted FDI and also received and effectively used development assistance from international organization and country partners and support from non-governmental organizations for socio-economic development, particularly supporting the disadvantaged regions and vulnerable groups of our people. At the same time, we preserved political stability and transformed business environment, in term of policies, administrative procedures and legal framework that has facilitated foreign investors and domestic businesses. To date, Viet Nam has become a focal point in terms of investment attraction and sustainable development.
Fourth, Viet Nam has also managed to mobilize invaluable internal resources for national development. These include, among others, qualified and abundant human resources and the strong will of hard-working and forward-looking people who have united and contributed their part to the cause of national development and defense.
Viet Nam has the third largest population in Southeast Asia (nearly 100 million), half of which is relatively young, below the age of 30. This well-educated, hard-working, with knowledge of and access to technology and internet, and relatively cheap workforce has become one of our major assets for promoting the country's competitiveness and FDI attraction. Local prices and low-cost of living, with a relatively modern infrastructure and beautiful landscape are also great reasons for investors and business people to consider when looking for opportunities in the region.
In short, I think concerted actions by State institutions and policies of opening-up, steady reform, deep international integration, strong support of the people and national solidarity, together with a good combination of external resources and internal strength in pursuing agreed national goals have contributed to the successful story of Viet Nam's economic ascension and sustainable development.
Q: Has your country recovered from the Covid pandemic, or do you still face problems like many other countries do?
Viet Nam has prepared for the pandemic as early as the very first case of Covid-19 in the world was reported in January 2020. Between early 2020 to mid-2021, we applied the "zero-Covid" policy, with masks, tracing, and social-distancing, and gained certain success in controlling the number of Covid-19 cases across the country. Despite the global economic recession and disruption of supply chain due to Covid-19, Viet Nam was ranked as the top performing economy in Asia, being among the few nations worldwide to record positive economic growth (2.9% in 2020 and 2.58% in 2021).
After the initial success in containing the virus, Viet Nam was hit by the new wave of the pandemic in the second half of 2021 due to the Delta variant. Faced with the great challenges posed by the Covid-19 pandemic, Viet Nam has effectively implemented a flexible Covid-19 response strategy in order to continue to pursue dual goals of fighting the pandemic and maintaining socio-economic development.
Thanks to the support of COVAX and other partners, Viet Nam has launched the largest vaccination campaign in the nation's history against Covid-19. Thus far, A large part of the population have got the third dose of Covid-19 vaccine, making Viet Nam one of the countries with the highest vaccination coverage rate in the world as noted by the World Health Organization (WHO). This has enabled Viet Nam to enter the stage of "new normal" domestically and re-open the country for foreign tourists since March this year with no requirements and restrictions measures.
At the moment, the Government of Viet Nam is implementing the Socio-Economic Development and Recovery Program to help revitalize the economy after the disruptions from the Covid-19 pandemic, so as to create momentum for achieving the goals set forth in the 10-year Socio-Economic Development Strategy for 2021-2030 period adopted at the 13th Party Congress in January 2021. The aim is to turn Viet Nam into a developing country with modern industry and high middle income by 2030. To facilitate inclusive and sustainable growth, the Government is developing national development strategies on a wide range of issues such as green growth, digital economy, digital society, e-government, and promotion of gender equality etc., and at the same time placing the people at the center of all development policies and strategies, making sure that no one is left behind in difficult times.
Thanks to timely and responsive policy adjustment, Viet Nam's socio-economic situation in 2021 and the first half of 2022 remain stable, macro-economic balances are ensured, and inflation is under control. According to the General Statistics Office of Viet Nam, the FDI disbursed during the first half of 2022 reached USD 10.1 billion, an increase of 8.9% compared to 2021 and the highest level for five years. Viet Nam's GDP is expected to grow at about 8% this year, the second highest GDP growth rate in the Asia-Pacific region, only after India.
Q: You also cover the WTO, and you have been very active in the discussion of fishing subsidies. Why is this subject so important for your country?
Fisheries is important to Viet Nam, with many villages and towns along the country's coastal line of about 3.200 km. According to Food and Agriculture Organization (FAO), Viet Nam fisheries rank eighth in the world in term of share of the global volume of marine capture production (In 2019, its capture production was 3,284,969 MT accounting for 4.03% of global volume). At the same time, Viet Nam's fisheries is tropical, multispecies and small scale where numerous poor communities earn their daily income.
Viet Nam is fully committed to Sustainable Development Goals (SDGs), including SDG14: Conserve and sustainably use the oceans, seas and marine resources for sustainable development, including promoting sustainable fisheries management, combating Illegal, unreported and unregulated (IUU) fishing.
As a developing country, Viet Nam is fully committed to implement the WTO Buenos Aires Ministerial Decision of 13 December 2017 and SDG14.6 targets to "by 2020, prohibit certain forms of fisheries subsidies which contribute to overcapacity and overfishing, and eliminate subsidies that contribute to IUU fishing, and refrain from introducing new such subsidies, recognizing that appropriate and effective special and differential treatment for developing and least developed countries should be integral part of the WTO fisheries subsidies negotiation".
That means that participating in the WTO discussion, we would like to make sure to commit ourselves, at the same time new commitments should be balanced, allowing us, as other developing countries, to build capacity for implementation, and certain space and flexibilities, i.e., Special and Differential Treatment (SDT), that can support our fisheries, especially small scale and artisanal fisheries and to protect our resource-poor fishermen and farmers.
We have been actively participating in the WTO discussion which resulted in the WTO Agreement on Fisheries Subsidies at the 12th Ministerial Conference and we will continue to work with other WTO Members towards the effective implementation of this new Agreement.
Q: What are the main objectives in current Vietnamese foreign policy?
After more than 35 years of Doi Moi with many aforesaid achievements, Viet Nam is entering a new strategic period with a strong vision and aspiration for development to become a modernized and industrialized country by 2045.
Our consistent foreign policy of peace, friendship, cooperation and development is provided for in our Constitution of 2013. Viet Nam consistently carries out a diplomatic policy of independence, self-reliance, peace, friendship, cooperation and development; seeks multilateral and diversified relations and actively seeks international integration and cooperation on the basis of respect for each other's independence, sovereignty and territorial integrity, non-interference in each other's internal affairs, equality and mutual interest; comply with the Charter of the United Nations and international treaties in which the Socialist Republic of Vietnam is a member; being a friend, reliable partner and responsible member in the international community for the sake of national interests and contributing to the cause of peace, national independence, democracy and social progress in the world.
At the bilateral level, Viet Nam seeks to deepen relationship with all countries in the world, enhancing our strategic and comprehensives partners particularly with ASEAN, G20, 5 permanent members of the United Nations Security Council.
At the multilateral level, promoting and elevating Viet Nam's profile and effectiveness at multilateral forums has been identified by our Party and State as a top strategic orientation. Accordingly, we need to fulfill our responsibilities at the UN mechanisms and organizations that we have been elected to, such as Vice Chairman of the 77th General Assembly (09/2022-09/2023), member of the Human Right Council for the term 2023-2025, member of the UNESCO Executive Council for the 2021-2025 term, the IAEA Board of Governors for the 2021- 2023 term etc. At the same time, Viet Nam will work closely with the United Nations and international partners to handle challenges that affect our security and development interests in many ways, such as climate change, food security, water security and epidemics, promoting green growth, digital transformation, and energy transformation.
Q: Viet Nam has become an important tourist destination. What exactly do you have to offer?
Viet Nam impresses foreign tourists with its hidden charm, imbued in the country's vibrant street life, exquisite food and beautiful landscapes, as well as the diversity of its terrain and local culture. A nation on the move, Viet Nam balances cool urban culture with traditional values. In the cities, ancient pagodas squat just around the corner from stylist rooftop bars or business centers; and in the countryside, life still follows the rhythms of the rivers and the rice harvest. This contrast between old and new Viet Nam is a big part of its appeal. Viet Nam is also charming for its diverse natural beauty stretching from the aged-old historical sites and tastes of modern life along the countries, beautiful bays and beaches and caves in the North, Central and South.
All regions, from the Northern mountainous provinces, Cao Bang, Sa Pa, Hoa Binh, to Ha Long Bay, Ha Noi (the capital), Ninh Binh, and Central region, Da Nang, Quang Nam, Da Lat, coastal region such as Ninh Thuan, Nha Trang, to the Mekong river Delta, Phu Quoc island in Southern Viet Nam have become favorite destinations of international tourists. Popular agro-tours include experiencing farming and joining activities such as growing coffee or tea, visiting local porcelain-making, silk-making, fish sauce making and pearl-making factories, enjoying local products such as fruits and seafood, boating in the famous Cai Rang Floating Market in the Mekong River etc.
Viet Nam has fully reopened for international tourism without Covid-19 restrictions (No vaccination certificate, No test requirements, No quarantine, No medical declaration) and restored visa policies and immigration procedures as before Covid-19. Now international tourists are free to discover and enjoy various natural destinations like limestone mountains, green terraced rice fields, and white sandy beaches as well as immerse themselves in the diversity and vibrancy of the local life.
Q: You have your own language with its own alphabet. Could you tell us a little about its origins and evolution as well as something about your country and its people in general?
Viet Nam is home of 54 ethnic groups with the population of nearly 100 million people. The Vietnamese language is the official language in Viet Nam and is the language of the Kinh people, the mother tongue of about 85% (around 85 million people) of the population of Viet Nam, along with more than 4 million overseas Vietnamese. It is the second language of ethnic minorities in Viet Nam.
Vietnamese is a tonal language with diverse range of vocabulary - both native and borrowed from ancient Chinese, and to a lesser extent, French - which can help to express ideas in highly creative ways. The language has been influenced from Chinese as in East Asia region and the ancient Vietnamese script (Chữ Nôm) which was based on Chinese characters but with phonetic elements to make it more suitable to the tones of the Vietnamese language (in spoken form). However, Vietnamese is a language of indigenous origin, descended from an agricultural civilization, in what is now the northern region of Viet Nam. Vietnamese has dialects differing from the North, Central, and South, mostly in their sound systems but also in vocabulary, while modern standard Vietnamese is based on the Ha Noi dialect.
Today Vietnamese is written in Latin alphabet with bar marks, called Quoc Ngu script (national language script), which became predominant in Viet Nam since early 20th century, starting from the romanization of Vietnamese codified by Catholic missionaries in the 17th century.
However, today the ancient Vietnamese script (chữ Nôm) can be read and written by a few Vietnamese people, scholars, priests. The ancient Vietnamese scrip is also being used in Vietnamese calligraphy, particularly for expressing best wishes during Lunar New Year or other celebration occasions.
Other languages and scripts of ethnic minorities in Viet Nam are being preserved. Viet Nam's Constitution states that "The national language is Vietnamese. Ethnic groups have the right to use their own languages and scripts, preserve their national identity, and promote their fine customs, practices, traditions and culture."
With the preservation of diversity of ethnicities, culture and geography, many of the habitats in Viet Nam have been recognized by the UNESCO as world cultural heritages sites, global geoparks or biosphere reserves. In Viet Nam all the ethnicities are equal, unified and respect and assist one another for mutual development; all acts of national discrimination and division are strictly forbidden. The State implements comprehensive development policies, providing conditions for the ethnic minorities to promote their physical and spiritual abilities and to develop together with the nation.
As you can see, Viet Nam, a family of nearly 100 million people from 54 different ethnicities practicing 16 major religions and hundreds if not thousands of beliefs, is so diverse, yet harmonious, a family that has gone through the ups and downs of thousands-year long history together, and now moving forward to build a brighter common future. It is the harmony and unity amongst all our ethnic and religious communities that have made Viet Nam a robustly growing economy and a dynamic society as it is today./.