Cardinal Lustiger: Judaism to Catholicism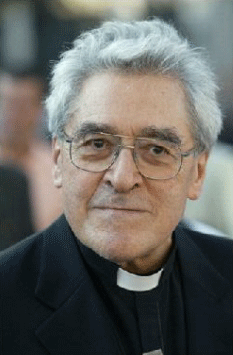 A Jewish convert to Catholicism who rose to become Archbishop of Paris and a close ally of Pope John-Paul II, Cardinal Lustiger (1926-2007) died aged eighty. He was the only Jewish convert to Roman Catholicism to become a French bishop in modern times. He summarised his own life by saying that he had been "a cardinal, a Jew and the son of an immigrant".
Judaism to Catholicism
Born Aaron Lustiger in Paris on 17 September 1926, he was the eldest child and only son of Charles and Giselle Lustiger, who kept a hat shop at the Butte of Montmarte. His parents, who emigrated from Poland, started selling goods from a street stall before prospering and taking French citizenship. Although the children's grandfather had been a rabbi, they were given no religious instruction and had a secular upbringing.
At the outbreak of war in 1939 the family abandoned Paris, to seek refuge in Orl?ans where Aaron lodged with a host family that may have had some influence on his Christian path. During Holy Week in 1940 Aaron Lustiger disobeyed his father's instructions, and for the first time visited a church (Orl?ans Cathedral), feeling a strong attraction to the empty building. Returning the next day, Good Friday, he decided to convert and was baptised as Aaron Jean-Marie. Independently his sister also decided to be baptised.
Aaron Lustiger became a Catholic at fourteen during the early days of the German Occupation, and lost his mother two years later when she was arrested and sent to Auschwitz, where she died. He saw his conversion as a natural progression, believing that Christianity and Judaism were "indissolubly linked" and that "the New Testament was hidden within the Old and the Old Testament came to light in the New" since Christ was the Messiah of Israel.
After the war Lustiger's father, assisted by the chief Rabbi of Paris, tried to get his son's baptism annulled on the ground that Aaron had converted for empirical reasons, an argument that Jean-Marie strongly denied. Lustiger entered the Sorbonne University, where he decided to become a priest, a decision that caused a complete rift with his father.
Lustiger's prominent role as a Jewish convert was strongly condemned both in Israel and in the Jewish diaspora. This hostility reached its height in 1995 when he was invited to address a conference at the Hebrew University in Tel Aviv on "God's silence during the holocaust". The Chief Rabbi disrupted his visit to Israel publicly accusing him of "betraying his people and his religion" that caused him deep hurt.
Priest to Cardinal
He was ordained into the priesthood on 17 April 1954, and Father Jean-Marie held a number of positions in Paris before being appointed parish priest in 1969 at St. Jeanne de Chantal in the 16th arrondissement. His fame as preacher, pastoral and spiritual leader quickly spread. He usually spoke with a sincerity, humour and intelligence that soon increased the size of the Sunday congregation who appreciated his sermons; they were later published in a volume. His ability and unusual background quickly attracted the attention of the papal nuncio, and in 1979 John-Paul II made him a surprise choice as Bishop of Orl?ans. Thirteen months later he was appointed to the archbishopric of Paris.
Charles Lustiger, who had watched his son's remarkable progress without enthusiasm, died the following year, by which time father and son had been reconciled to be able to pray together.
As archbishop of Paris he was a restless reformer, determined to increase the number of ordinations. After falling out with the rector of the existing seminary he opened his own and, in the course of time, he ordained 200 priests. He was nominated cardinal by Pope Jean-Paul II on 2 February 1983. As staunch defender of human rights, upon the announcement of his being named cardinal, he said "that he considers this dignity more as a responsibility than an honour, in so far as it concerns carrying even more the burden of the whole Church".
His biography and bibliography with citations and writings are many. His intellectual, theological, moral and social contributions to Catholic and ecumenical debates in France and around the world are well documented. He took part in the papal conclave of 2005.
Epilogue
Always close to Pope John-Paul II, one of the Pope's last acts was to accept the resignation of Cardinal Lustiger as archbishop of Paris, because of ill health, in 2005. He continued with lectures and other activity, including travel, until retiring to undertake treatment and had latterly been under palliative care for cancer until his death in Paris on 5 August 2007.
Ordinary people and many dignitaries came to pay their respects. His funeral service was held at Notre-Dame Cathedral. Led by the French President, Prime Minister, Government Ministers, representatives of all faiths attended the ceremony that was relayed to thousands of people from all walks of life. Five hundred priests, fifty bishops and sixteen cardinals were present.
It was a fitting tribute to this dignitary of the Roman Catholic Church whose church Title was Cardinal Priest of St. Luigi des Francesi.
Note: Acknowledgement is given to all sources of information used in preparation of this article, principally the Obituary on Cardinal Lustiger in the U.K. Weekly Telegraph, August 2007.


Ita Marguet, September 2007