Heads of State, ICT ministers, industry leaders join tens of thousands of participants around the world to create a 'Manifesto for Change'
Photo P.Virot/Action Press
Texte: ITU Pressrelease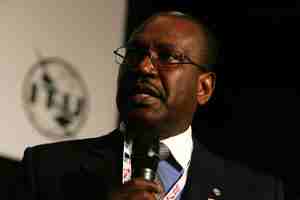 The 40th anniversary edition of ITU Telecom World opened its doors today to over 250 top leaders from government, the private sector and the global technology community.
The event, which is being held in Geneva from 24-27 October, is bringing the brightest minds and most influential leaders together to debate the key issues that will shape the future of an industry that now pervades virtually every field of human endeavour.
A vibrant opening ceremony sponsored by China Mobile, the world's largest mobile operator with over 600 million subscribers, featured President Ali Bongo of Gabon; Commodore Josaia Voreqe Bainimarama, Prime Minister of Fiji; Igor Shchegolev, Minister of Communications and Mass Media, Russian Federation; Doris Leuthard, Head of the Federal Department of Environment, Transport, Energy and Communications, Switzerland; Sheikh Abdullah Bin Mohamed Saud Al-Thani, Chairman, Qatar Telecom; Jianzhou Wang, Chairman, China Mobile; and Dr Hamadoun Touré, Secretary-General, ITU.
Dr Touré noted how, for the first time in ITU Telecom's 40-year history, tens of thousands of people from around the world were joining the event using the full range of connected technologies. The event, he said, will be a genuine "conversation reflecting the concerns, dreams and visions, not just of people physically present at the event" but of those all around the world following the event remotely from their homes, offices, schools, and through a network of 100,000 telecentres around the world.
The official ceremony was followed by a more informal event celebration in the OpenSpace arena, where participants heard from additional dignitaries including Mark Muller, Conseiller d'Etat, Geneva; Dr Babatunde Osotimehin, Executive Director, UN Population Fund (UNFPA); and Mohamed Khalfan Al Qamzi, Chairman of the Board of the Telecommunications Regulatory Authority (TRA) of the United Arab Emirates.
Dr Reza Jafari, Chairman of the ITU Telecom Board, took the occasion to announce Dubai as the winner of the global bid to host ITU Telecom World 2012. TRA Chairman Al Qamzi welcomed the announcement, noting that UAE is now home to operators serving over 100 million customers across Asia, the Middle East and Africa. "The global position of UAE as a major gateway for three continents with trade and transit routes reaching west, east, north and south, has ICT as it heart," he said. "Bringing ICT industry leaders to the region will help foster the development of this sector. I look forward to welcoming you to UAE and to showing you the extent to which ICT is contributing to our development."