Interview with Halil Guven, Rector of the Eastern Mediterranean University, Famagusta, Northern Cyprus

Eastern Mediterranean University, higher education, Cyprus, Farmagusta, PhD, Master studies, journalism, peace studies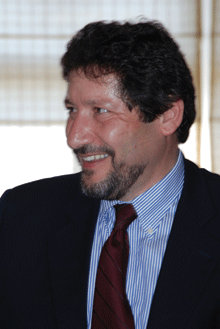 In the old former Venetian city of Famagusta, in the northern part of Cyprus, lies the biggest university on the island. It has more than 15,000 students in seven different faculties. The Rector was a professor at the University of Los Angles before he chose to take up this position. Although the task is not easy, especially following the reforms taking place in the higher education sector in Europe, the Rector is a happy man who is determined to continue fighting for his university …
Q: Tell us about the Eastern Mediterranean University.
In fact, it's the biggest university on Cyprus. The island is small, with a total area of 9,500 km2. It is the oldest university in Northern Cyprus, dating from 1979, with some 15,000 students.
Q: Where do these students come from?
What is interesting is that almost 11,000 of them come from outside Cyprus, i.e. foreign students. Only 4,000 of them are Turkish Cypriots. Out of the 11,000 foreign students, 9,000 come from Turkey and the rest comes from other parts of the world, with more than sixty different nationalities altogether. Most of them come from Iran, about 500 from Nigeria, but we also have quite a number from the Balkans and Middle-Eastern countries — Jordan for example. It makes a multicultural environment.
The campus serves the region very well and creates a nice, safe and clean environment. Sometimes, students do not want to leave after graduation.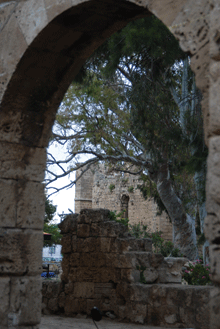 Q: What do you offer to your students?
We have seven different faculties, with fifty different programmes for Bachelors of Sciences and Arts, twenty-four Masters and fifteen Ph.D. programmes. Almost 1,000 students are graduate students doing either Masters or Ph.Ds. We have faculties of engineering, architecture, business, communication, tourism, and communications.
When people come to our campus — knowing that Cyprus is a tourist island — they do not expect to find a "serious" university. However, when they see this huge campus and the academic activities — even the islanders are surprised!
Q: What are the admission criteria?
It is different for each country. Students from Turkey have to take a Turkish entrance exam, and then they choose to come here. Their system is such that the central administration places them according to their choice of preferences. For students outside Turkey, we accept them on the basis of their high-school diploma and what else they have done to prepare for university. It is different for each country.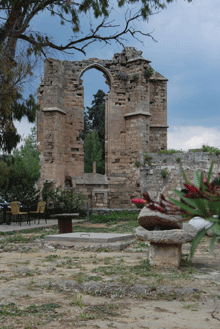 Q: What about the recognition of diplomas?
There have so far been 23,000 graduates, because we have been operating for almost twenty-nine years. The university is known. When somebody goes with their diploma to Europe or to the United States, the university is recognized.
We have agreements on the recognition of diplomas with Ministries of Education in eight different countries — India, Pakistan, Iran, Jordan, Oman, etc. Universities operate on the recognition of academic criteria, not on political ones. In this sense, we are a member of the European University Association. They have their criteria for acceptance and we do not have any problems with recognition, unlike the political problems that North Cyprus is experiencing.
Q: Where do your professors and teachers come from and how do you find them?
We advertise on the Internet as well as in educational publications. Surprisingly, we have a high percentage of international staff, a situation which does not exist in other European campuses, not even in Turkey.
Recently, we had a visit from the European University Association Institutional Evaluation Programme. Five people came to evaluate and analyze the programme. They wrote in their report that there are too many international staff: ninety-seven people from Third World countries; seventy-seven from Turkey and the rest are locals. We even have one Greek Cypriot!
Q: You also conduct research.
We are doing research through the Ph.D. programmes. We are able to do so because of the qualifications of our faculty. In the last five years research activities have increased. In the World of Science, we have almost 500 citations. However, we cannot get any funding from Framework 7 or ERASMUS because of political problems. Nevertheless, our faculties are very active in research.
Q: Are you doing research in any particular fields?
We have a lot of research in engineering and science, in the social sciences, business, communication and law. We are working on creating centres of excellence in gender studies. There is already a centre in the university on Women's Research and Studies and they have a journal called Women that focuses on gender issues in the region. We are also looking at the role of women in Islamic societies. We have declared it a centre of excellence with a visiting faculty position and additional money for conferences.
We also have a project that looks at journalists promoting peace. Journalists can look at things from different points of view. The Journalist Department focuses on "peace journalism". Recently they organized a conference where they invited journalists from Palestine, Israel, Greece, Turkey, Greek-Cypriots and Turkish Cypriots and talked about how things could be reported to foster peace among people.
We also launched a Ph.D. on "conflict resolution" in the International Relations Department, and we start accepting students next year. We obtained approval from the Senate. This is intended to help research on conflicts in other parts of the region, not necessarily in Cyprus. We may learn from Cyprus how to promote peace in other parts of the world.
The fourth research project is archaeology. Cyprus is very rich in archaeology, so we decided to have a Centre of Excellence on Cultural Heritage and Archaeology. There are two very interesting historical sites where our people are excavating: Carpasse and Taklousso.
The fifth and most recent project is underwater photography. It is tied to archaeology, because there are a lot of relics under the sea around here. Off the coast you see anchors of long-lost ships and ancient drowned amphitheatres. The Archaeology Department was looking at where the artefacts came in the Carpasse excavation. We extended this underwater. They finished their third international underwater archaeology and photography exhibition last month.
Q: If people would like to come here, what should they do?
They are most welcome. If they would like to study here they should write to us, after consulting our website: www.emu.edu.tr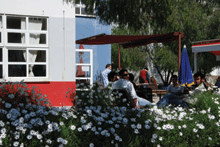 Q: Do you have a message for the international community?
It is my continuing wish that what we are doing here in the university should be free of politics. We hoped that the Cyprus conflict would not affect the education of the next generation. In Cyprus one side is recognized and the other is not. I will not go into this issue, but this recognition and non-recognition should not affect education. Unfortunately, it does. For instance, all European universities are in the Bologna process, where governments have declared that they will reform their universities. Turkey declared in 2001 and South Cyprus declared also in 2001 — but nobody will include us officially into the system. So now we use the American credit system. If we are going make use of the European system, somebody should help us so that we can become part of it.
Right now we are not part of any system. We are not part of the Turkish higher education system, because we are not in Turkey. We not part of the South Cyprus university system either. If we say that we are part of the Turkish Cypriot higher education system, they tell us that there is no such thing. We have tried to explain this to the European Commission, the European Parliament, the Bologna Secretariat and all the politicians who come here. They tell us that this is political issue and we will not include you. But we are not talking about politics, this is education! They say that a minister must sign your application, and you are not recognized. This again is politics. How can the university be left out just because there is no solution to the Cyprus problem? They tell us you must wait until the Cyprus problem is solved. But what if it does not get solved until 2010 or 2020?
I think even if we are not recognized, we exist and must continue educating people. We do not know why we are penalized or how to get out of this situation.