Interview with His Excellency Mr Beraki Jino, Ambassador of the Solomon Islands to the Republic of China

Mr Ambassador, what is your background?
I have been a career diplomat since entering my country's Foreign Service a little over twenty years ago, after graduating from University. In addition to serving at the Headquarters in Honiara, Solomon Islands, at various capacities, I served two terms in New York, one in Brussels and now here in Taipei since end of 2003.
Would you be able to tell us something about your country?
The Solomon Islands is a nation of many islands (more than 900 low-lying and high volcanic islands). A country of diverse races and cultures, all live in harmony with each other. We speak more than 80 distinct languages. Being a former British colony, English is the official language and Pidgin is spoken by the vast majority of the population.
The total area is around 28,000 sq km, and the population is slightly over half a million.
The country's major resources, for which the country's economy is based upon, are Forestry, Fisheries and Marine Resources, Plantation Agriculture products and Minerals.
In 2008, the country will mark its 30th anniversary of independence from the United Kingdom of Great Britain (UKGB). 2008, will also mark the 25 years of official and cordial diplomatic relations between the Solomon Islands and Taiwan.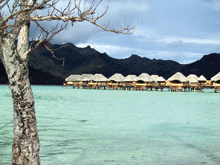 You are the Solomon Islands Ambassador to Taiwan. How would you characterize bilateral co-operation between the Solomon Islands and Taiwan?
The bilateral co-operation between the Solomon Islands and Taiwan is one based on mutual trust, respect and interest. It is also a relationship based on our common or shared beliefs in democracy, respects for human rights, human values and human dignity. As seen and witnessed during the past decades, our mutual and uninterrupted friendship has grown closer and stronger. And we both are committed to enhance this mutual and close co-operative relation-ship further.
You have had experience in multilateral diplomacy and today you are into bilateral relations. What are the main differences, or similarities if any? In what way are they linked to or influence each other? What is, in your opinion, the most challenging?
In multilateral diplomacy, one has to deal or consider different and diverse views and interests, while in bilateral diplomacy, you are dealing with at least one - and in a way the latter is easier to handle.
There are of course issues that have bilateral and multilateral dimensions. In my view, if you can reach common understanding on a particular issue at the bilateral level, then you have a better chance of
influencing outcomes on the same issue at the multilateral level.
Being small with limited resources - including manpower, this is a practical challenge that face many small countries engaged in international relations.
For the Solomon Islands, while we can only afford to post at least one diplomat to represent us in missions, in particular our multilateral missions to the United Nations in New York and to the European Commission in Brussels, Belgium, the agendas of these organizations are huge, with endless meetings on their calendars. Bigger
countries have all the resources to send experts and they are able to attend every single meeting, while we do not have the luxury to do so. All we could do is prioritise issues and meetings and focus on what is relevant to our national interests.
What would you say is the main occupation of the foreign policy of your country?
They say that a country's foreign policy is a reflection of its own domestic policy. The overall emphasis of our foreign policy is on development. We are pursuing a foreign policy through collaborative engagements with our diplomatic friends, including through regional and international organizations. We seek to secure official development assistance and to pursue active economic engagement through trade and by attracting foreign investments into the country. Our ultimate objective, among others, is to achieve an educated, healthy, happy and strong population to take the country further into this century.
Your country is an island state, much like Taiwan, which has some specificities and special concerns - what are yours?
Indeed Taiwan and the Solomon Islands have or share many things in common, including as you rightly stated - that both are island states. We passionately would like to say that we also share the same Pacific Ocean and are of the same heritage and origin of Austronesian cultures and languages.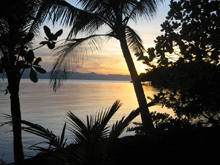 We have our own specificities as well, but would not go through the whole list. But as a nation of islands, one of our special concerns is the environment. And issues such as climate change and the threat of sea-level rise are dear to our hearts. We must also be mindful of what sort of development activities we can engage ourselves in. Our natural resources, although abundant, are also finite and the challenges we face include how to sustainably develop and to manage the resources both at the local and national level.
I know that TaiwanIHA was recently on an emergency mis-sion to your country. Could you tell us something more about it, and the results of the mission?
Yes, the three Medical experts dispatched by TaiwanIHA were part of the international team that went to the Western and Choisuel Provinces of the Solomon Islands on the aftermath of the tragic earthquake and tsunami disaster on April 2, 2007. In fact, upon learning of the disaster TaiwanIHA immediately mobilised the emergency medical team and it was dispatched to the disaster area through the first
available means of transport.
From reports and feedbacks on the ground, while the mobile mission was there, the members did outstanding work in the delivery of emergency medical supplies and in treating disaster victims in makeshift clinics or hospitals. They not only easily fit in well, into the harsh environment in the disaster areas, but they also professionally work in close partnership with other international and national disaster emergency teams.
Three or four months later after their return to Taiwan, the Solomon Islands Government saw it fitting to recognise the invaluable
service of the TaiwanIHA emergency team for serving thousands of lives of disaster victims. The members were each honoured with an award, at a brief ceremony at the DOH Headquarters in Taipei. I was extremely honoured to present the awards on behalf of the Government of the Solomon Islands.
Within the field of health, what would you say are the main concerns for your country, and could you talk about the medical co-operation between TaiwanIHA and your country?
The establishment of TaiwanIHA as a medical emergency and humanitarian organization committed to mobilizing resources to serve and rescue lives in times of man-made and natural calamities is a noble concept. In fact TaiwanIHA has proven itself through numerous life-saving missions sent out to different parts of the globe during the past years.
The Solomon Islands is a country prone to many natural disasters such as earthquakes, tsunami and cyclones. The country is also vulnerable to communicable diseases, which have the potential to reach catastrophic levels. Obviously there is need for closer medical co-operation between the Solomon Islands and other like-minded humanitarian organizations such as TaiwanIHA.
More recently, TaiwanIHA in collaboration with another Taiwan national hospital established a Permanent Medical Mission in Honiara.
I have also heard about the International Co-operation and Development Fund, could you tell us a little more about it? Does your country benefit from it, and if yes what exactly does it do?
The name, International Co-operation and Development Fund or commonly known as ICDF, speaks for itself as far as its core function is concerned. ICDF is the major official, technical and funding agency for a series of socio-economic programs and activities, not only to Taiwan's diplomatic allies but also to many of its close global friends.
It provides assistance in areas of human resources development, technical assistance in the field of agriculture, economic and private sector development, in volunteer schemes and in more recent years, increasing assistance in the health sector of its allies. In close collaboration with the Department of Health (DOH), ICDF has been engaged in innovative health co-operation with other countries, through dispatch of Mobile Medical Missions and sponsoring training of healthcare workers to be trained in healthcare facilities and training institutions in Taiwan.
ICDF has been involved in the operation of the Agriculture Technical Mission in Solomon Islands for more than a decade now. It has
sponsored many Solomon Islanders both for short and long term training in various fields and since 2006, in close collaboration with DOH and Kaoshiung Medical University Hospital, it sent out more than 5 Mobile Medical Missions to rural parts of the Solomon islands to treat patients or carry out medical examinations.
Finally Mr. Ambassador, if you had a message for the international community based here in Geneva, what would that be?
Time and again, Taiwan has demonstrated itself as a responsible global
citizen - capable of discharging its international obligations with utmost respect and honesty. As among leaders in public health care
delivery and in advances in many medical fields, Taiwan's remarkable achievements in these fields, including its unreserved service to humanity deserve respect and recognition with clear conscience by the international community.