Interview with Nadine Burcher, Managing Director, UNIQA Assurances SA International Health and Accident Insurance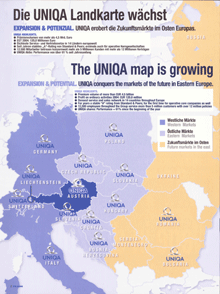 Q: The name UNIQA Assurances SA is well-known among people working for CERN, but other people may not know what you are doing. Would you be so kind as to tell us something about your group and your activity in Switzerland?
We are, in fact, a member of the UNIQA group, which is an Austrian insurance group.
UNIQA Assurances SA is a Swiss private health insurance company established in 1979 with an intentional Austrian identity, representing economic and ethical values in every area in every aspect of our activities. We were earlier known under the name Austria Assurance. Since 2001, as a result of a merger between our Austrian headquarters and other insurance companies, the group and its foreign subsidiaries were renamed UNIQA.
In Austria, UNIQA is a market leader in all the different insurance branches. For geographical and historical reasons, the UNIQA group has now turned towards the emerging markets in Eastern Europe. Today we are active in all insurance sectors throughout eleven countries, and we are expanding into Ukraine, Byelorussia, Russia and Romania. In the Western European markets, UNIQA is active in all insurance sectors, whereas in the more mature markets UNIQA functions in more specialized niche markets.
In Europe, UNIQA Group serves more than 3.4 million customers, with a total staff of more than 9,700. It is a financially strong and well-known group with a premium income of ? 3,600 mio for 2004. Being one of the leading suppliers of insurance solutions and health-care services, we enjoy an excellent reputation for the quality of the services supplied.
In Switzerland, we are involved in a specialized niche market, namely private health insurance for the international community. According to Swiss legislation on social health insurance, since 1996 any resident in Switzerland is obliged to be part of the Swiss social health insurance system. However, those who work for the international organizations, diplomats and expatriates working for multinational companies are exempted from this rule. They are free to choose their own insurance. It is all a matter of legal status, and we are serving those who are not subject to the obligation of the Swiss social security scheme.
Q: There are people in international organizations who are not covered by health insurance. Can they subscribe to medical insurance with you?
We do not sell individual health insurances; we only provide collective health insurance. For instance, if a representative from a diplomatic mission comes to see us, we could offer an insurance policy covering the staff of the mission and their families on health matters, sickness and loss of earning in case of illness. The fact that we do not sell individual health insurances is a matter of strategic choice. We do not, therefore, have a license to propose other types of insurance.
Q: The name of your company is very familiar for those working in CERN. What you are offering to people working there?
Historically, UNIQA came to Switzerland because of the health insurance contract we established with CERN thirty-five years ago. Ever since then, we have been the insurance company for CERN and we have adapted to their needs. Currently there are around 12'000 persons covered by the CERN Health Insurance Scheme. We have also established a Help Desk on the CERN site and devoted our activities to their needs.
We also provide health insurance to other clients but CERN remains our most important client in Switzerland. But, of course, our objectives consist of expanding and acquiring new clients.
Q: Can you offer the same services to other international organizations?
Many of the international organizations, the big ones in particular, already have their internal social security plan, often self-funded and/or self- administrated. The degree of coverage is not the same, if you compare the one in the UN with the one in CERN.
Our particularity is that we do not offer only a standard product: we can tailor some product to the needs of our clients, and we propose to them the territorial coverage they need—it may consist of medical coverage for Europe or the whole world. We have, for instance, partners all over the world, and particularly in the United States, which is one of the most liberal insurance markets in the world. Here, you might end up paying out a huge amount of money if something happens. We have been able to set up an agreement with a large insurance group so that our clients are not going to suffer.
It is really tailor-made for the special needs of each client. This is something that is not very common among other insurance companies, which tend to offer ready-made or standardized solutions that do not take into consideration the special needs of the population we are serving.
We offer high-quality products and services, as well as long-term value for a fair price. Our services are based on close contact with our clients. We listen to them and try to do everything we can to satisfy their needs.
Q: You are one of the people working on the concept "long-term care", which is provided within the CERN Health Care Insurance Scheme (CHIS). Would you be so kind as to explain what this is?
Long-term care benefits provide financial support to people in need of assistance over an extended period of time resulting from chronic disabilities entailing impairment of their ability to function independently in their daily lives. People of all ages may need long-term care. However, it is expected that older people will be the primary beneficiaries of long-term care.
First of all, let me explain what we mean by dependency. It is, in fact, a limitation in a person's ability to perform a range of activities in their daily life: for instance, moving around in the house; getting dressed or undressed; washing; doing one's hair; eating and drinking.. Dependency is one of the consequences of the population living longer. Also the number of the very old persons has increased in a considerable way over the last years: many more persons of the so-called fourth age live amongst us. These very old persons may also be quite healthy, not really needing substantial medical care, but still not be able to take care of themselves and their households as if they were forty or sixty years of age.
Traditionally, old people used to be looked after by the family, but today, with the evolution of modern society, this is no longer the case. Therefore, their needs can only be taken care of through specialized institutions that provide domestic care, but this is, of course, highly expensive. This is not health insurance as it is not only a consequence of illness—but rather of old age. Dependency certainly is an upcoming social risk, that asks for an adequate coverage by the social protection systems. I was lucky to be able to take part in the pilot project that we set up for CERN to introduce specific measures for these persons. The CERN Long Term Care Scheme allows daily allocations and specific paramedical benefits, such as providing nurses and caretakers enabling concerned people to remain at home or to find appropriate nursing homes where their medical needs are taken into consideration.
I can assure you that merely defining the criteria for dependency assessment was not an easy task. This really was pioneer work and CERN has decided that everybody enrolled in their health plan, either young or old, can benefit from this offer. The young were included too as there is not really an age at which one becomes dependent—think about the victims of serious accidents or about the consequences of disability, for instance. After this experience, UNIQA Assurances SA also was asked to conduct a pre-project study for Long Term Care for the ILO/ITU. We have also carried out an actuarial study into this same field for the UN in Geneva. Our experience into the Long Term Care assessment is typically a field where UNIQA Assurances SA can bring some strong added value to its potential clients.
Q: Persons benefiting from this long time care—can they live any where?
For CERN, all these benefits are valid all over Europe or even world-wide, depending on each Organization's health scheme—no matter where you live. However, we have noticed that the coverage for elderly persons in terms of specialized agencies and institutions is better in Switzerland than in many other countries. But that is the choice that each one has to make.
Q: What do you consider to be the strong points of your company?
UNIQA Assurances SA has been awarded since 2002 the ISO 9001:2000 standard certification, which implies that there exists a certain level of quality, control and transparency. Let me give you some examples: we reimburse medical costs within five days, either here in Switzerland or world-wide. We also recently carried out a satisfaction query to our insured: more than 95% of them were satisfied or very satisfied with UNIQA services.
In early 2006, we are going to inaugurate a new service to our clients: they will be able to access their medical accounts from the Internet and this is also a move to increase contact and transparency with our clients.
We have an excellent local health network; including the best private clinics and health providers, whether for out-patient care or for hospitalization; we provide world-wide repatriation; In addition, our concern is to keep the costs under control. It is easy to offer everything, but the costs have to be reasonable and the insured person must find his/her way financially. This is the most difficult part, especially in a country like Switzerland where medical costs have exploded over recent years.
For instance, I am very pleased that we have been able to establish a partnership with more than 100 medical doctors in Geneva who have accepted to apply the recommended fees — Tarmed — to our insured. You must understand that the international community does not benefit from the same fee schedule as the Swiss; therefore doctors are free to charge high fees. This is the reason why there is such a huge variation in fees from one doctor to another. Our work consists of finding high-quality partners with reasonable prices, and this is really quite a challenge.
Q: So how to you proceed to choose a supplier?
Our clients have certain habits in Geneva and we are limited by the local offer. However, knowing that our clients have certain preferences, we select those places where most of them go, evaluate the quality of the services offered, and then negotiate to obtain a good price and priority access for our clients. The supplier, on the other hand, is guaranteed that he will receive a steady number of clients.
Establishing partnerships—drawing up agreements with our partners—in order to provide high-quality medical service with reasonable prices is one of our priorities and areas of expertise. I think it is really very valuable for a private insurance company to have been able to establish such a network.
Q: So if I am insured with your company, I have priority access in comparison with somebody who is not insured with you?
Yes, that's the case. In addition, we guarantee a direct payment, which implies that you do not have to pay anything apart from your private expenses. We have, for instance, a special agreement with the Clinique G?n?rale Beaulieu, which gives us a very attractive price for child-birth with an optimal quality of medical treatment. However, when it comes to a consideration as important as health, it is very important to guarantee to the insured persons that the final choice will still remain theirs and that they will be free to choose the medical provider that suits them best.
Q: What are your objectives?
Our objectives are, of course, to increase awareness about UNIQA—to make it even better known within the specialized market in which we operate. We are also constantly aiming to improve the quality of the products and solutions that we offer and to find new clients who may benefit from our expertise and know-how. Our company has strong values to which we remain faithful, such as transparency, ethics, flexibility and quality.
UNIQA Assurances SA
94, rue des Eaux-Vives
CH-1211 Gen?ve 6
Tel: 41 22 718 63 30
Internet: www.uniqa.ch