"Ornaments coming from Gobustan"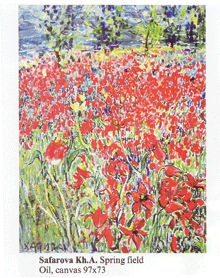 Azerbaijan is a country in the South Caucasus proud with its rich culture and ancient history. Nine out of eleven climatic zones that exist in the world can be found in this beautiful country at the crossroads of East and West. Favorable climatic conditions, rich natural resources contributed to its becoming one of the oldest spots of habitation of ancient peoples since the old days of primitive society.
Ancient monuments and other traces of history are the evidence of the fact that human beings inhabited Azerbaijan from time immemorial. Archeological findings on the territory of present-day Azerbaijan, especially those found in the Azikh Cave located in the Guruchay region of Karabakh region of Azerbaijan goes back to 350-400 thousand years B.C and allows us to compare this Guruchay material culture with the Oldway one. One of the most ancient places of habitation is Gobustan which is located approximately in 70 km from Baky, capital of Azerbaijan. More than four thousands of rocks were found here and passed through scientific expertise. Scholars proved that first examples of Gobustan's rock paintings belonged to Mesolithic period. Renowned Norwegian scholar, explorer and archeologist Thor Heyerdahl was comparing the Gobustan's rock paintings with the paintings discovered in the Northern Land. Given its world historical significance, Gobustan has been included by the UNESCO into the list of world cultural heritage sites.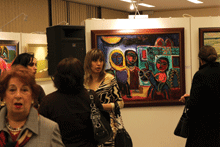 Together with rock paintings some other cultural samples discovered as a result of archeological digs such as pottery, jeweler's art and megalithic dwellings are traces of the wealthy cultural heritage. One can compare the megalithic dwellings in Khanlar region of Azerbaijan with the famous Stone Hage.
Paintings discovered on various decorative applied examples and ornaments convey the talent of masters, fine esthetic feeling of ancestors of Azerbaijani people, its artistic imagination and broad mentality. No wonder that you can find the references to Azerbaijan in the works of ancient Greek scholars like Strabon and Ptolemey. Some examples of Azerbaijan's cultural examples enrich the foreign museums and private collections. There are embroideries from Azerbaijan in the private collections of Duke Anton Ulrich and Alberto Vecchio. Handicrafts of Azerbaijani masters and artists can be found in London Royal Asian Society Library as well as world famous museums like Louvre, Dresden, Topkapi (Istanbul), Metropoliten, St. Petersburg State Hermitage, Tretyakov Gallery, Moscow Armoury Museum and etc.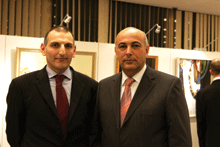 Numerous cultural examples, the Maiden's Tower, Yusuf ibn Kuseyr Tomb, Mominaxatun Mausoleum, Barda Mausoleum, Tabriz Blue Mosque, Shirvanshakhs' Palace in Baky and many other unique architectural monuments emphasizing the rich cultural traditions people of Azerbaijan has been recognized worldwide as a unique and unparalleled contribution to the world cultural treasury.
One of the leading and important directions of Azerbaijani culture is fine art. The Medieval miniatures are considered as the most interesting feature of the Azerbaijani art with its historic roots going back to Gobustan and Gamigaya monuments. The first-ever examples of Azerbaijani miniatures are the miniatures made on the basis of the manuscripts like "Varga and Gulsha" (XII century), "Manafi al-Heyvan" (end of XIII century), "Cami-at tavarix" (XIV century). Roots of "Varga and Gulsha" miniature consisting of 71 miniatures take roots from the rich folklore of Azerbaijani people. The analysis of these miniatures testifies to the fact that Azerbaijani miniature art of that period had been influenced by the traditions of the Arab-Mesopotamia and Chinese-Uigur art. Later, miniatures belonging to the Hulakular period as well as those prepared by XV century miniature master Abdulbagi Bakuvi paved the way to establish XVI century Tabriz Miniature School.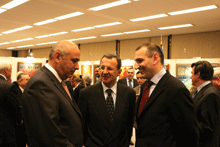 Master Soltan Mahammad was the founder of XVI century Tabriz Miniatur School. The miniatures painted by him on the basis of masterpieces of the world-renowned Azerbaijani poet Nizami Ganjavi's "Khamsa" poem and various papers convey the high level of evolution of Azerbaijani fine arts during the ruling of the Safavi dynasty. The founder of the Azerbaijani Safavi State Shakh Ismayil Khatai I along with the state affairs attached special importance to the cultivation of art and culture. Shakh Ismayil Khatai I used to invite renowned scholars, poets and miniaturists to his palace and provided them with privileges for their activity.
You can find references to the culture of Azerbaijan in the works of many European travelers. In particular, we can find the description of Azerbaijani carpets in the work of Renaissance period artists which represent another proof of cultural links Azerbaijan had had that time as a county through which one of the routes of the Great Silk Road passed linking Eastern and Western civilizations.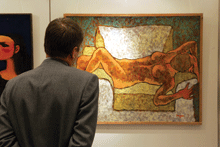 The famous artists of the Renaissance period like Benvenuto Cellini, Leonardo da Vinci, Albreht Durer and others considering the art as a sort of science with its own rules started writing treatises. XVI century Azerbaijani miniature master Sadiq bay Afshar considering the art from the above-mentioned approach wrote "Qanun as-suvar" treatise where he described his creative concept. His "Darvish who mounted the mule" miniature was beyond the scope of conditional schematic description of Azerbaijani miniatures and was based on realistic description style.
Interior of Shaki Khan's Palace with its mural pictures decorated by the XVIII century famous Azerbaijani master Usta Qanbar Garabaghi and his apprentices represents the unique example of a mural painting art in Azerbaijan.
In XX century, Azerbaijani fine art underwent substantive qualitative changes. Monumental and weaving art as well as sculpture appeared and first ever art school was established in Baky in 1920. Substantial achievements were reached in the graphic and poster art, book design. Prominent Azerbaijani artist Azim Azimzade's satirical graphic works created new direction in the Azerbaijani fine art.
Azerbaijani artists like Mikayil Abdullayev, Boy-ukaga Mirzazade, Qazanfar Xaligov, Elbay Rzaquliyev, Tagi Tagiyev, Maral Rakh-manzade, Vajiha Samadova, Latif Feyzullayev and others who graduated from famous art schools and academies in the world brought new tendencies to the Azerbaijani fine art.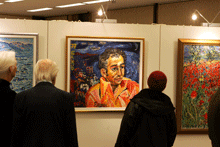 Famous Azerbaijani artist Sattar Bahlulzade contributed his share to the further development of Azerbaijani fine art and is remembered as an impression artist since his talent allowed him to save his imagination in his works like no one else. This archetypal artist whose camp, skeletal appearance looked like Dali and Serge Gainsborough rolled into one. With a blatant disregard for the requirements of soviet social realism he painted huge, distinctive canvases of streaked colours which do for finger painting what Seurat did for dots. Though virtually abstract, the overall effect in his most successful canvases is a remarkable evocation of the Azerbaijani landscapes - quite an achievement when painting the subtle landscapes of the pan-flat Shirvan nature reserve area.
Another renowned Azerbaijani artist Tahir Salakhov was a founder of the so-called "severe style" - a new path in Soviet art that depicted true realism. Who could imagine that Oil Rocks with its dozens of kilometers of roadway built up on trestles and piers in the Caspian, off the coast of Azerbaijan, would give birth, not only to the world's first successful offshore venture in oil drilling [1949], but also to an art movement countering the calculated artificiality and lies of Stalin's regime (1960s and 70s). He experienced the awe and wonder of nature juxta-posed with the honesty, genuineness and romanticism of oil workers, shaped by the tough realism of sweat and hard work as they attempted to harness the sea. Together, they offered a much-needed healthy setting for Tahir Salahov and led to the creation of a new art movement called Severe Style that gradually spread through the Soviet Union. Severe Style was characterized by its quest for truth in the context of life's harshness.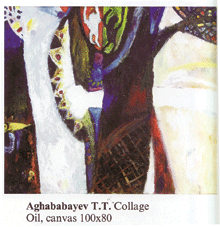 In 70-80th of last century Azerbaijani artists like Rasim Babayev, Tofiq Mirjavadov, Togrul Narimanbayov, Murad Afshar, Kamal Akhmad, Farkhad Khalilov, Elchin Aslanov and many others started to implement and apply miniature art traditions, mythological themes, conditional schematic description styles as well as associativity and symbols in their creative work. Folk mythology for many of those artists was one of the principal sources of inspiration.
Many of Rasim Babayev's paintings seem like they belong in a fairy-tale collection designed to trigger nightmares. He's known for drawing many-fingered, many-legged and many-headed horned monsters baring several sets of teeth, which threaten tiny, helpless humans. The white teeth stand out in stark contrast against dark purples, blues and splashes of crimson. But these monsters, known as "Divs" ("devils" in Azerbaijani fairy tales), are not just imaginary.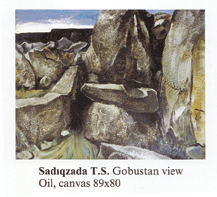 According to Rasim Babayev, they symbolize totalitarianism, specifically the terror of the Soviet system. Despite the ban on any artistic expression that did not reflect "Social Realism", Rasim managed to get away with depicting them on his canvases under the guise of "Primitivism".