"Road to the 2022 World Cup"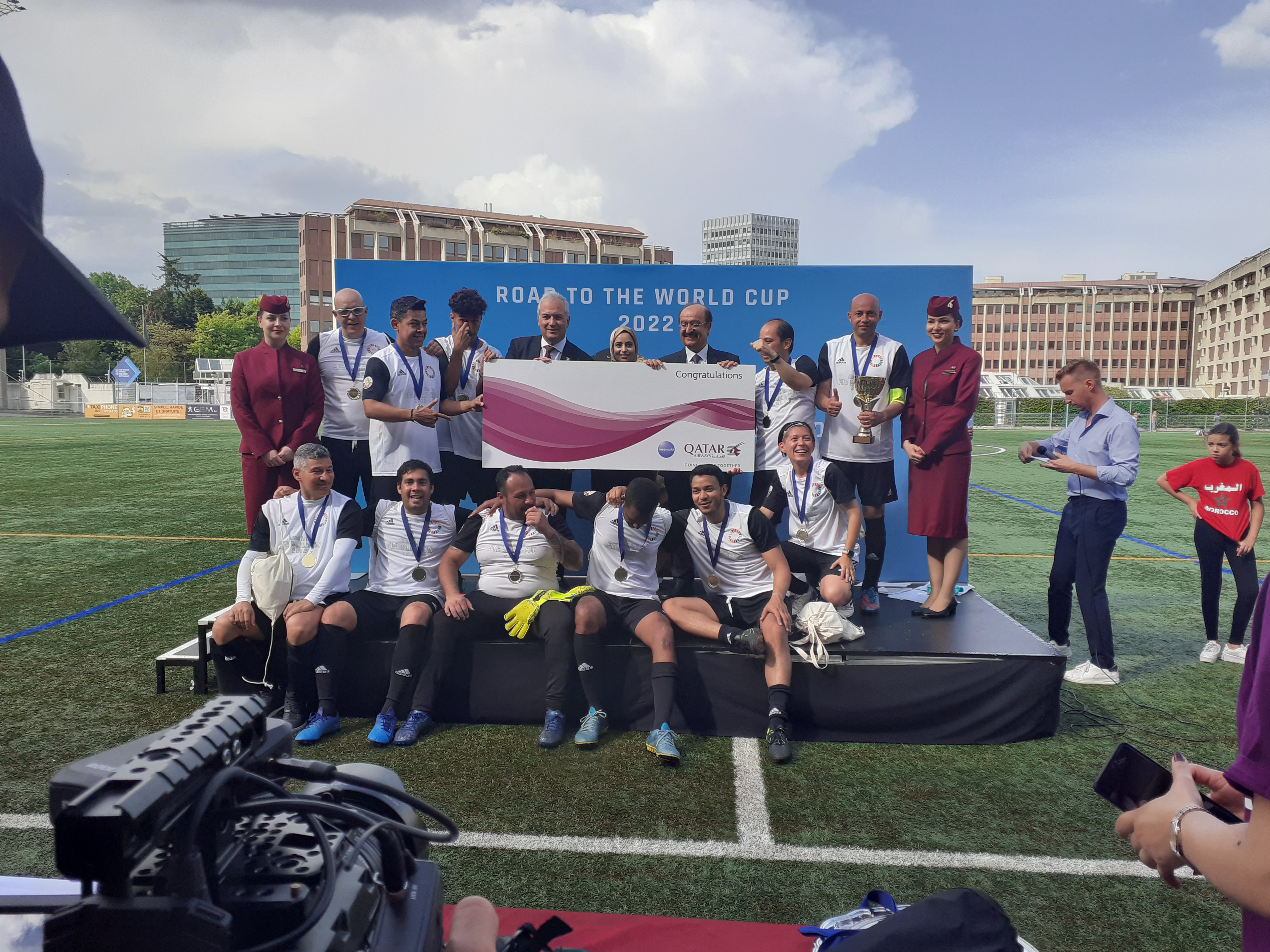 On Wednesday 22nd of June, 2022 the Permanent Mission of the State of Qatar to the United Nations Office in Geneva organised at the " Stadium of Varembé" in collaboration with the Perception Change Project in the Office of the Director-General UNOG and the United Nations Geneva Football Club, a one-day football tournament under the slogan: "Road to the 2022 World Cup".
The football tournament commemorated the FIFA World Cup Qatar 2022™ and was addressed to the diplomatic corps and local staff of Member States' Missions accredited to the United Nations in Geneva. It featured eight teams of ten players from countries representing the following regional groups: Africa, Asia-Pacific, Europe, North, Central America and the Caribbean, Oceania, South America, Arab Group, and Gulf Cooperation Council.
Mrs. Juhara Al-Suwaidi, Chargé d'Affaires a.i, welcomed all those present and thanked particularly Qatar Airways, the Supreme Committee for Delivery and Legacy and the Qatar National Human Rights Committee for sponsoring the tournament. Mrs. Al-Suwaidi recalled in her address the role of sport in supporting several key sustainable development goals, and in addressing challenges facing the international community in all spheres of life.
Mrs. Al-Suwaidi also stressed her belief that the 2022 FIFA World Cup would be extraordinary and would go down in history as one of the most successfully organized.
At the end of the game between the participating teams, Ms. Tatiana Valovaya, Director General of the United Nations Office in Geneva, along with representatives of Qatar Airways, and the Qatar National Human Rights Committee, presented the prizes to the winning teams and congratulated them for their good sportsmanship
FIFA 2022 World Cup souvenirs and giveaways were distributed to all participants in the tournament, as gifts from Qatar's Supreme Committee for Delivery and Legacy.
Participants and spectators alike were treated to traditional Arabic Coffee and dates, served by Qatar Airways cabin crew in traditional Qatari hospitality.
For his part, His Excellency Mohammed bin Saif Al-Kuwari, Vice-chairman of the National Human Rights Committee, said that sport is an important catalyst for sustainable development. He stressed at the same time, the growing contribution of sport to development and peace, given its role in promoting tolerance and respect and its contribution to the empowerment of women, youth, individuals and societies and to the achievement of goals in the fields of health, education and human integration between different societies.
He added: "Considering these concepts, the Committee participates in this important event : The Road to the 2022 World Cup".
The event provided an opportunity for the various member States participating in the tournament to deepen cultural exchange and mutual understanding. It also contributed to highlighting the values of football and its association with the United Nations Sustainable Development Goals as it promotes the principles of tolerance, unity in diversity, mutual respect, cooperation and solidarity.