The woman whom Napoleon hated most... Madame de Sta?l (1766–1817)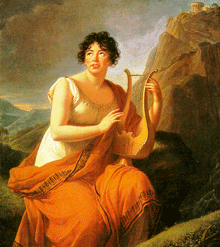 The brilliant personality of Madame de Sta?l made her the most famous woman in Europe at the dawning of the nineteenth century.
Although her parents were from Geneva, she was actually born in Paris on 22 April 1766 and her name was Germaine Necker. Her father was Jacques Necker, a wealthy Genevese banker, and hence she was brought up in elegant Parisian luxury. Although a foreigner and a Protestant, her father was on several occasions appointed to manage the crumbling finances of the French king Louis XVI. In the dying days of the French monarchy Necker tried desperately to model the French political system on the more moderate and liberal English parliamentary monarchy. But the dizzy Marie-Antoinette never liked him and it was his dismissal by the king on 11 July 1789 that was the last link in the chain of events leading to the storming of the Bastille three days later.
Germaine's mother was Suzanne Curchod, an attractive, cultivated and talented woman who considerably aided her husband's career by holding literary and political "salons" in Paris. As a young lady, Germaine Necker attended these salons and met the cleverest men of her time: Voltaire, Rousseau, Lamartine, Ch?teaubriand. She joined in the discussions at these male-dominated occasions and gained a reputation for great wit—if not for beauty. Germaine did not inherit her mother's good looks; without wishing to be unkind, her physical appearance has best been characterized as "frumpy" (there are worse descriptions!).
In 1786, at the age of 20, she married the Swedish ambassador to Paris, Baron Eric de Sta?l-Holstein. This marriage of convenience allied the rich and clever Mlle Necker to the easy-going, hard-drinking, penniless, card-playing diplomat sixteen years older than her—but with a title. The marriage would end in a formal separation in 1797. During this time she gave birth to two sons, but they are believed to have been the children of her lover Louis de Narbonne, one of Louis XVI's ministers. However, the French Revolution broke out in 1789 and the Swedish embassy in Paris would provide Mme de Sta?l and her friends with a valuable diplomatic sanctuary.
Like her mother before her and like some other wealthy educated women, Mme de Sta?l opened her own salon in the grand tradition of eighteenth century French society. This was a meeting place where a closed circle of writers, artists and critics shared opinions about contemporary politics and literature, listened to music and poetry readings, and discussed fashionable ideas. However, in 1793 during the period of the "Terror" life in Paris became so dangerous that she moved her salon to the family residence at the Ch?teau de Coppet near Geneva, to which her father had retired in 1790.
By 1794 order having been restored, she returned to Paris intermittently and the most brilliant period of her career began. Her salon flourished and she published several political and literary essays. In 1799 Napoleon Bonaparte came to power. Mme de Sta?l was attracted to all men of genius and she wished to share with Napoleon her ideas on new forms of government, in particular those moderate and liberal ones dear to her father. Napoleon was not the sort of person who required anyone to tell him what to do and he reacted first with impatience, then with irritation. Little by little, Mme de Sta?l's salon formed the nucleus of a liberal resistance group that Napoleon found a nuisance. The spokesman for this group was Benjamin Constant and Napoleon thought that his speeches reflected too much the influence of Mme de Sta?l. First, he had Constant banished from Paris and in October 1803 Mme de Sta?l. Napoleon's hostility made her famous throughout Europe.
From December 1803 to April 1804 she journeyed through Germany and was received like a head of state; this journey was interrupted by news of the death of her father, whom she had always greatly admired.
Thus, Coppet became the anti-Bonapartist headquarters of the cosmopolitan "Groupe de Coppet", which gradually grew in size. Its different members came from many different horizons and the idea of a plurality of nations first took form here. But Napoleon's police began to take an ever-increasing interest in her affairs and in 1812 Mme de Sta?l fled to Austria, Russia, Finland and Sweden before finally arriving in England in June 1813. After the fall of Napoleon in 1814 she returned to Paris and began holding her salons again, but her health began to fail and she died there on 14 July 1817.
Mme de Sta?l has been described as throwing herself at every distinguished man but receiving little love in return. "I always loved my lovers more than they loved me", she once said, and she seems to have accumulated considerable experience in the matter. The greatest love of her life was Benjamin Constant, a brilliant politician and novelist, with whom common political sentiments formed a bond and by whom she had a daughter called Albertine. In 1811 aged 45 Mme de Sta?l married John Rocca, a Swiss-Italian army officer nearly half her age. Their only son was born retarded.
Mme de Sta?l slept little and was constantly and fearfully busy all of the time, but never had time to do anything very well. Much feted, much read and much followed when she was alive, she was thought to be something of a philosopher and something of a novelist. Her novels and her philosophy are now considered to be mediocre borrowings from others. Nevertheless, those who knew her all agreed: "If you had only heard her speak!" An eccentric, dominating personality, with a rapid and penetrating intelligence, through the spoken word she brought movement wherever she went. Apart from being the woman whom Napoleon hated most, she is now remembered as the champion of a moderate and liberal republicanism, and as the empress of a vast realm of intelligence, talent and grace.
HAYWARD BEYWOOD
MME DE STAEL'S FAMOUS FATHER
Jacques Necker was born in Geneva in 1732, the younger son of the professor of German Law at the University of Geneva. When he was 16 Jacques Necker entered the bank of Isaac Vernet as a clerk and two years later was transferred to the bank's headquarters in Paris. In 1762 he became a junior partner and through adroit speculation soon became a prominent and wealthy banker. In 1764 he married Suzanne Curchod who encouraged him to take up a public career, since his main interest lay in the field of politics. In 1764 he transferred his banking responsibilities to his brother Louis and attracted attention by writing articles on financial matters. In 1776 he entered the royal treasury and within a year was virtually in control of Louis XVI's finances. During three periods—1776–81, 1788–89, 1789–90—Necker was the French finance minister. Administrative power in France lay in the hands of the clergy and the nobility, many of whom enjoyed fiscal immunity. Necker proposed a series of social and constitutional reforms giving more political power to the people. However, his programme of liberal concessions was blocked by the privileged classes, leading inevitably to the French Revolution. After the Revolution, he returned to office but was overshadowed by Talleyrand, who would continue to play a role in French policy for the next forty years. It has been said that Necker's policies were weakened by his desire to remain popular.