Visit of Queen Sofia at UNOG during an AGFUND meeting on October 10, 2019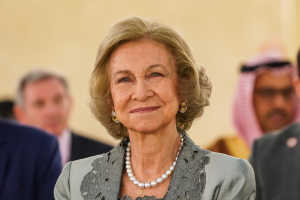 Text DR_AGFUND
Photos: ActionPress/PM Virot
Sophia of Greece and Denmark is a member of the Spanish royal family who served as Queen of Spain during the reign of her husband, King Juan Carlos I, from 1975 to 2014. Queen Sofía is the first child of King Paul of Greece and Frederica of Hanover. As her family was forced into exile during the Second World War, she spent part of her childhood in South Africa, returning to Greece in 1946. She completed her secondary education in a boarding school in Germany before returning to Greece where she specialised in childcare, music and archaeology. She married Juan Carlos, son of the Spanish pretender Infante Juan, on 14 May 1962 with whom she has had three children: Elena, Cristina, and Felipe.
She became queen upon her husband's accession in 1975. On 19 June 2014, Juan Carlos abdicated in favor of their son Felipe.
Queen Sofia is a member of AGFUND
AGFUND'S Vision:
AGFUND believes in the sustainability of human development and poverty alleviation and struggles to enable vulnerable groups (women and children, people with special needs, displaced people and refugees etc..) to exercise their civil rights in their communities and lead a dignified social and economic existence with improved living conditions.
AGFUND's Mission
Through the implementation of its programs, Agfund provides support to needy groups to help facilitate their full access to basic and fundamental social requirements, such as education and health care, under the umbrella of fair national and international legislations towards the prevailing of security and peace. Agfund's initiated effort to contribute without any discrimination to projects of human development, is done through the support of its Partners and is implemented, by the United Nations Development Organizations, by international and regional organizations, by governmental and NGO's bodies all over the developing world.