Interview with Mr. Hassine Helmi, Director General of Tunisair in Switzerland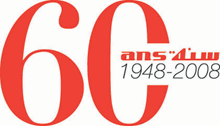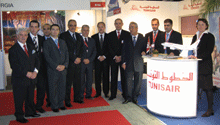 The director of Tunisair is a dynamic man in this early 30s. Since becoming the director of Tunisair in Switzerland in October 2004, he has overseen an increase in the flights between Geneva and Tunis from three to six a week - soon to be seven. This year the company is celebrating its 60th anniversary, and we went to see him to hear more about this success story.
Q: What would say is your main achievement since you arrived here in Geneva three years ago?
Tunisair's presence in Geneva goes back to 1965 when we opened our office here. So we have been present here in Geneva for 43 years. One could say that an important development has taken place during the last two to three years, leading the Swiss market to the fourth most important market for regular activity both in traffic and revenue. During the last two years we have doubled the
frequencies of flights from Geneva to Tunis. After many years of operating with three flights, we increased it to six flights a week, and our clients can already book and buy tickets on the seventh one starting next June 25th. This means that we will have daily flights between Geneva to Tunis.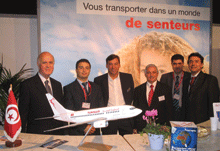 When we talk about daily flights we're talking only about the Geneva-Tunis axis. However, from Geneva this summer, 2008, we will have 13 flights a week. Seven of them are direct flights to Tunis, one for the destination Monastir, another one for the island of Djerba and four charters. We serve as charter operator for most of the important tour operators in Switzerland : Kuoni, Hotelplan, Air Marin, FTI, TUI and X?notours. In addition to this, we also have flights from Zurich and Basel and even Bern after the extension of it's runway in 2008.
In the Tunisair Group, we also have Sevenair which is mainly an airline serving Tunisian regional airports (Djerba, Sfax, Tozeur, Gafsa, Monastir, Tabarka) and other international airports in the Mediterranean region and Europe (Naples, Nice, Marseille, Algiers, Geneva, Zurich…).
For instance, for the seven flights a week to Tunis, the tourists who would like to go on to Djerba or another destination in Tunisia can do so using Sevenair. Since last year, Sevenair has also had charter flights between Switzerland and Tunisia.
The advantage of Sevenair is that they have smaller aircraft (42, 72 and 87 seats) and therefore Tunisair Group offers more flexibility and enables an increase in the frequency, for better service to our clients.
Q: How did you manage to get such a tremendous increase?
We transported in 2007 more than 150,000 passengers and we're planning to maintain our 10% annual increase for the coming two years. Maintaining this development means working harder with tourism and travel professionals in both Tunisia and Switzerland, so, that's what we have done and continue doing by innovating and offering new solutions closer to the clients' needs.
The success of Tunisia as leisure destination has of course been the main contributing factor. The Swiss tourist, but also neighboring French tourists - those living close to either Geneva or Basel - have a very positive image of Tunisia, and they like to go there regularly.
However, we do not only serve tourists, but also
businessmen and -women. In fact there are quite a lot of commercial exchanges between our two countries, and Tunisia has become an important business centre in region. Our country, owing to its geographical situation, is a natural link between Africa and Europe, between the eastern and western part of the Mediterranean. A lot of passengers also transit by Tunis on their way to other destinations in Africa such as Nouakchott, Dakar, Bamako, Abidjan, or to Middle East destinations such as Damascus, Beirut, Bahrain, Kuwait…
Tunis is becoming an important hub for air traffic in North Africa. In addition to passengers, we also transport CARGO. But it's not only a question of generating more revenue. One of our main interests is to serve the country's economy and to transport the national exports -
agricultural but more and more manufactured and industrial products.
Q: We have the impression that your country and your airline have really taken off.
A take off, I would say, which is a result of the development of the country during the last twenty years thanks to the perceptive and clear-sighted president BENALI policy.
Mainly this development is on two sides. On the one side it's the result of the development of the tourism industry with a modern infrastructure and high level services.
On the other hand, there's the creation of an attractive environment for investment based on a very skilled manpower in all domains and a solid stability of a continuously developing and healthy economy.
Q: What is the fleet of Tunis Air?
The company posses 30
aircraft from the worlds' two aircraft producers, namely Boeing and Airbus. We are proud to say that we have already started to renew our fleet and we will continue to change half of our aircraft within the next few years. Our latest
acquisition is the Airbus 319-ER, an aircraft that lets us schedule direct flights to Dubai, with the greatest degree of comfort and in-flight entertainment facilities. Everything has been done so that we can provide the best possible standards to our clients.
Q: Going back to your 60th anniversary: What will you be doing this year?
For this 60th anniversary there are lots of things in the pipeline. We have for instance, this winter, one of our most important promotional campaigns called "l'hiver ? prix doux…" making reference to the mild climate in Tunisia. We have also just received one of the highest ranking security certificates, IOSA, the certification from the IATA for air security. We are extremely proud of our pilots, our operational department and our safety and security level.
We have also attractive weekend package offers with our partners. There are quite a lot of people going for a weekend to Tunisia - leaving Geneva on a Friday afternoon and coming back on Sunday or Monday or Tuesday morning. It's not so far away - in less than two hours - to be precise one hour and 45 minutes flight time - you are, in Tunis-Carthage airport witch is only few minutes from Sidi Bousaid Marina, Gammarth and Carthage Bay or the charming old Medina of Tunis.
For further information:
Tunis Air,
rue du Mont Blanc 5
1201 Geneva
Tel 0840 07 07 07